The Utmost Importance Of The Truth Of Jesus
and His "Imminent" Return
January - February 2016
by Lance Robert Schmidt
Preface
I am an INFO "HOLIC". I admit it. However, I feel absolutely no need to overcome or conquer this "addiction"...
I just need to refine my research and better "channel" my work for the glory of the LORD and His glorious Gospel. I am primarily first and foremost an "evangelistic worker". "Redeeming the time" that remains for my life (or until the LORD comes for us, his children). I regard my reading and research as a tool in God's hands for His agenda and His ONLY. This is paramount to me.
I desire fervently to use compelling information to direct people back to the pure preserved words of the LORD and to point them to the salvation that He has so richly provided to us... and all human kind... through His "only begotten Son", the Lord Jesus Christ.
Important "INFO" is an obsession of mine. I confess my insatiable appetite for information that really matters. By that, I mean "Life-Death-Salvation-Redemption issues" and relevant topics such as current events, history, politics, economics, geopolitics, spiritual warfare etc..
I spend a great deal of my time in semi "retirement" from my former career work; reading and doing research. I don't enjoy frivolous reading much unless it has some roots back to important information in some manner.
The doctrine of "imminency" has captured my focus and attention in recent times. My research for the last six months has largely been with this particular "obsession". A burden for confused "brethren", has arisen in my heart and mind along with an increased burden for lost people...UNSAVED people that know NOT the "glorious Gospel of Christ"...the "glorious Gospel of the Blessed God".
In my Spirit I sense this "obsession" is from the LORD and specifically a mandate from the Holy Spirit. The LORD (Jehovah-Jesus) wants me to be a help to His people (where I am certain I can be of help by His grace in "enlightening the eyes of their understanding"). Months of renewed study with this burden has caused me to search the Holy Scriptures and historical records with this specific burden in focus. I now set down in writing my prayerful thoughts and research.
Let me say up front that this research has changed my HEART to a significant degree. I used to view "imminency" as one of a range of prophetic options for the time-line of God's plans to unfold; culminating in the Kingdom of the LORD Jesus Christ. I even went further as accepting it as my personal "preference" and the most appealing interpretation biblically.
Since my sphere of churches and fellowships over the years embraced this doctrine as the "time-line of choice" and also reserved room for possible alternative scenarios held by other "brethren" in the LORD, I followed suit. This academic approach was to teach all "possibilities" just in case and to broaden fellowship with those who might differ. The impulse to be "nice" and "inclusive" to all "brethren" sometimes clouds our instruction from the LORD to "earnestly contend for THE faith once delivered to the saints". This ambivalence I no longer tolerate in my own understanding.
Conventions and Definitions
The word "rapture" means "to catch away" or "snatch out suddenly" (among other lesser usage meanings).
Theologically speaking, "The Rapture" means the "resurrection" of all of the dead in Christ first and the "translation" of those alive saints at the moment immediately following the rising of the dead saints. The word "translated" (Colossians 1:13) refers to the transformation or changing "in the twinkling of an eye" (1 Cor. 15:52) of the living saints from their old earthly imperfect bodies into their permanent glorified bodies having never experienced physical death. This immediately follows the dead in Christ who must rise first. However, both happen quite suddenly and in close immediate timing and proximity. The dead in Christ are also called the saints "asleep in Jesus". They are conjoined in resurrection of their earthly immortal bodies to their heavenly bodies that they have inhabited since their earthly death in the presence of the LORD in heaven.
Why do I use the description "resurrection-translation"? Because, "rapture" does not appear in our English Bibles. The Latin root word for "rapture" DOES appear in trustworthy second century Old Latin (Itala, Italic) bibles that were widely circulated in the Roman Empire. These Latin scriptures were the final compilation of the HOLY books numbering 66 in total that God, the Holy Ghost confirmed and appointed for His people in that day. These books remain the same 66 Holy Ghost inspired works compiled back then and translated for our pure Bible versions today. These Latin Bibles came from Antioch and were compiled by Lucian and other trusted local church leaders in the early second century. Their text supports the pure stream of God's words in various necessary languages down through history to our present 1769 edition of the 1611 Holy Bible aka the King James Bible (KJB) or the King James Version (KJV).
The Greek word for the rapture is the "harpazo" and explained fully a little later in this study.
Just because "rapture" is not used in the vocabulary of the Bible does not mean it is not a valid concept. "Trinity" is not used either, however the doctrine is clearly revealed. The word GODHEAD is more exact and biblical even as "resurrection", "resurrected" and "translated" is more faithful to the actual terminologies used in the Scriptures.
Introduction
Mainstream religions, alternative internet media and popular culture are all focused on the climate of growing national decline, increased world upheavals, global instability and cultural clashes. "Christian" sources and non-Christian groups are both coming against the idea that Jesus could come at any time for His own true children; true Christian people.
The hostility toward this teaching is intensifying. Rejection is accelerating across a range of opinions; from serious Bible researchers-students to the anti-bible and biblically illiterate crowd. It is a symptom of the great "falling away"...the "apostasy" that the New Testament certifies must come in these last days.
This falling away is centered in the departure from the "pure and undefiled" words of the LORD... and the "separate from sinners" vocabulary and word choices of the LORD Himself that are intended by God to be precious to us. These precious words should be "hidden in our hearts" that "we might not sin against Him".
We are to view these words as powerful, filled with His Spirit and Life. They are to be reverenced as supernaturally preserved by God himself.
They are to be held in our hands and studied with the utmost respect; the same awe and respect to be given to God's personal holy name - JEHOVAH. In fact the LORD regards his words above His own name!
These divinely protected words (also referred to as "the law of the LORD") are perfect... converting the soul. This is the process of sanctification; a lifelong experience of growth.
The words of the LORD are also very precise in meaning as God has overseen the process of preservation.
They are prophetic and to be preached properly with the final authority of the MOST HIGH behind each of them.
There is no room for "private interpretation".
Our piety (growth in holiness) will develop in relation to how we regard and handle the words of the LORD. Be careful which Bible you read and meditate on. And beware how you handle these sacred words of the LORD.
Jesus warned:
"The words that I speak unto you; they shall judge you in the last day".
Many have spoken against the impending "rapture" idea; mainline Christian denominations, cults, academic groups, non-Christian religions, secretive societies and even wildly popular media personalities such as Alex Jones of INFOWARS.COM fame. They all have aggressively accused those who hold to this teaching as being dupes or victims of self serving pastors, ministers, authors, clergy and bible teachers, teaching the false "secret rapture" doctrine. They claim it is a conspiracy; a devious plot against true "liberty loving" people.
The gainsayers (naysayers) also believe the "secret rapture" is a recent invention of John Nelson Darby in the 1830's influenced by Margaret McDonald, a mystical vision experiencing "prophetess" type of believer and possibly even connected with a Jesuit conspiracy to confuse people and make them passive toward the encroaching globalist agenda. They accuse Cyrus Ingersoll Scofield, a famous Dispensationalist bible student known for his widely used Scofield Bible (a commentary-study bible with a KJB text) of being a plant; a "shill' for this conspiracy. I know Cyrus was an imperfect man with many life problems but I have never owned or relied on his commentary and opinions. That is just another "straw man" argument.
Furthermore, I don't accept the label of "Dispensationalism" for my personal approach to the Scriptures... or as the proper and best way to approach the Bible. That is men trying to systematize the thoughts and truths of the Almighty. Although I quickly must say that I agree with much of the important doctrinal truths held by men that claim this approach to "Systematic Theology".
"ISM" reminds me to be on guard...because, to me, it stands for "intellectual schemes of men" often manipulated behind the scenes by "insidious satanic (subtle) manipulation (or machinations if you prefer).
Baptism is the one Bible word exception, but men even mess that up with false doctrine teachings (another article for another time and place).
For now, I will just say this on Baptism...the only liquid of any kind that matters in our salvation is the blood of the LAMB of GOD, the Messiah; the Lord Jesus Christ, PERIOD. If you are saved, you are baptized into Christ in complete identification with Him and His work of salvation on your behalf. The Lord Jesus Christ also baptizes you with His Spirit, the Holy Ghost, the "Spirit of Christ" and the "Spirit of Truth".
A water immersion public ritual is just a symbol, as a wedding ring is not the marriage itself, but a symbol of your status as a married individual having taken firm vows; and having also made life long commitments to your spouse ("until death do us part").
In like manner, bread and wine are symbols, not the very substance of a "mystical presence and a re-sacrificing of Christ". That is a pagan practice; an infection of the Babylonian mystery religion concept and ritual!
Moving on with our discussion of "imminence"...
Alex Jones and his religious "Christian sycophants" (such as outspoken Baptist preacher and video maker, Steven Anderson (among numerous others) claim this "rapture lie" distracts people from "standing up on their own hind legs" against tyranny and global government. Accusations abound with epithets hurled; "escapist"; "deserter mentality", "beam me up Scotty", "delusional", "dreamers", "apathetic", "sheeple" controlled by the New World Order; unwilling to confront the real problems of the day and having a passive "twisted" approach to Romans 13.
The diatribes and invective constantly come forth from Jones and other "media pulpits" of similar pundits; "opinion and conspiracy" purveyors attempting to "awaken" people to the immediate dangers confronting us – the destruction of the American Republic and its historic Constitution; the growth of a GLOBAL government with the back story of the evil "Technocracy" of tyrannical elite Eugenicists ultimately working to destroy humanity using an out of control police state now emerging etc.!
...Sure sounds like Bible prophecy to me!
For years I have been agreeing with 90+% of the assessments of alternative Internet media and talk radio journalists/hosts such as Alex Jones, Dr. Michael Savage, the late Dr. Stan Monteith, G. Edward Griffin, Gerald Celente, Steve Quayle, the late Texe Marrs, Nathanael Kapner, Jeff Rense, the Hagmann's, L.A. Marzulli, Tom Horn, Paul McGuire and many more too numerous to name here... concerning the spiritual, psychological, social, cultural, political, biblical, economic, technological, racial and geopolitical realities.
My interest has always been to connect these issues with the Holy Scriptures and lead people to the "glorious Gospel" of Salvation by "grace through faith in Jesus Christ"... and Him alone!
It encourages me when the high profile leaders of secular broadcasts such as Alex Jones mention their personal spiritual journey making occasional specific references to their faith in Jesus... and they even use the terms, "Jehovah", "Christian", "Jesus Christ", "Bible prophecy" etc. However, more often than not, they never explain properly the MOST important fact to the listener or viewer; that they need to be BORN AGAIN!...to be SAVED!... through the blood shed for them by the LAMB of GOD, Jesus! It's not an option!... It's a MUST!...and I quickly must add...before their death... before it's too late!
A more "out there" media program of popularity is "Coast to Coast AM" which I would occasionally catch while driving late at night when I traveled extensively with my field sales work. The interesting subjects would keep me awake and I would enjoy integrating the truths of the Scriptures that I held dear... especially the truth of the Gospel and Bible prophecy.
The broadcast's arcane and esoteric topics of discussion are largely done in an interview style show, with authors and various "experts" taking callers' questions in a talk show format. It gave me a lot of food for thought ...and a deeper desire to search the Scriptures for real answers in a given area.
Topics discussed would include the near-death experience, climate change, cosmology, quantum physics, remote viewing, hauntings, contact with extraterrestrials, psychic reading, metaphysics, science and religion, conspiracy theories, Area 51, crop circles, cryptozoology, Bigfoot, the Hollow Earthhypothesis, and science fiction literature, among others. Since the September 11, 2001 attacks, the events of that day (as well as alternate theories surrounding them) and current U.S. Counter-terrorism have also become frequent themes.
George Noory, the main host since Art Bell retired, also took interest in the 2012-2016 phenomenon of events...and believed that something can happen; but stated many times on air that he believed we would still be here on December 22, 2012.
Obviously he was right but there is more intrigue just ahead for us for 2016.
Mysterious sounds, "signs" and "wonders" in the skies, meteors, asteroids, upheavals of nature...all are now common place. Earthquakes, tsunamis, volcanoes, Nuclear radiation disasters, sink holes, severe weather disruptions, strange changes in climate, solar system anomalies, NASA discoveries, signs in the Sun, Moon and the Stars, ET-UFO sightings more frequently, and strange unexplained mass bird and fish deaths by the tens of thousands in numerous earth locations; are all occurring almost daily all over the world. Many other phenomena, with "explanation unknown", are being observed and reported as well.
Time is running out. The "birth pains" are happening. The increased frequency and intensity of these "birth contractions" are clear.
The LORD's real new world order is very close indeed!
Occult activity, secret societies' goals and actions now revealed, elite groups' meetings and supernatural phenomena are becoming more obvious; even "in our face"; out in the open, no longer hiding in the shadows or even hiding in plain view as in the recent past.
"Illuminati" (Luciferian enlightened elites) occult rituals abound in all of our pop culture events, ranging from the Super Bowl to the Olympics to the Grammys, the Oscars and almost all major POP artist's music videos and Hollywood movies. Why? Does someone... or some group want to soften us up and prepare us for something? I think you already know the answer to that question.
The Vatican Astronomical Scientific observatories and Pontifical Institutes are at last totally controlled by the Jesuits. They are eagerly watching the heavens anticipating something big.
Against the Roman Catholic Church's own canon law, the pope's chair of St. Peter is occupied for the very first time by a Jesuit. And the "Black pope", the General of the Jesuits, is still a dark power behind the front man pope. Many believe this is the last pope and likely the best candidate for the "second beast" and "false prophet" of the book of the Revelation (of Jesus Christ) in the New Testament.
There is a large spiritual "army" of Bible based authors and expert researchers that I have found in the "unexplained mysteries" categories and the fields of true history and future prophetic events research. They all closely integrate Bible truths with the scientific, historical, spiritual and technological information coming forward from eyewitnesses, ancient and recent discoveries, official records and other sources of evidence.
The names and research of these "investigators for truth" are available for our benefit via the Internet or through readily accessible books and documentaries: Gary Stearman, Bob Ulrich, Christian Pinto, L.A. Marzulli, Tom Horn, Steve Quayle, the late Cris Putnam, Doug Hamp, Dr. William Grady, Kent Hovind, Mike Hoggard, Dr. Gail Riplinger and many others including the late servants of the Lord...Dave Hunt, J.R. Church, Chuck Missler, Rob Skiba and Grant Jeffrey.
Its worth "googling" these names to become acquainted with their books and media productions. YouTube, Rumble, Bitchute and others have a wealth of very informative and helpful video resources from most of these people....and with quality production value.
Sadly...some high profile but untrustworthy preachers are intensifying their attacks on the pre-tribulation position, accusing adherents of teaching a "secret rapture" in their books and videos as well as their church preaching/teaching. Using poor biblical arguments and ignoring many key Scriptures, they wrongly characterize the doctrine of imminence. They use misleading terms to speak against the doctrine of imminence.
These preachers and pastors also deny the existence of easy to obtain and verifiable historical records which provide solid evidence as far back as the earliest centuries of writings by Christian leaders. These ancient early Christians wrote about the imminent return of the LORD Jesus Christ. These godly saints used only the words of the LORD to understand about Jesus coming back in the air to receive His Bride and Body; resurrected to immortality with new physical earthly natures conjoined to their heavenly spirit bodies; accompanied by those living at that event who are "translated" into their new eternal bodies, fit for both heaven and earth.
I call this glorification ("rapture") a transformation to trans-dimensionality.
This is NOT a biblical term. It simply means that the saints are then able to go between the two domains of heaven (the celestial) and the earth (terrestrial) as spoken of in 1 Corinthians 15; even as the risen Lord Jesus Christ experiences the same capabilities in His resurrected glorified body. The "raptured" Bride will be with Jesus, the Bridegroom, in the Father's house. This will parallel the "time of Jacob's trouble" (the Great Tribulation) on the earth during the 70th final week of years prophesied in Daniel. At that time Satan's fury is directed against the newborn saints that turn to Jesus after the great "rapture" event before the 70th week. This chief devil, our fallen "adversary", knows his time is short so his wrath becomes extreme. The preaching of the Gospel truth yields millions of new saints (mis-labeled as "Tribulation saints" by many bible teachers). Most of them will be beheaded in martyrdom. I prefer to call them "post resurrection-translation" saints...or the final "end of days saints".
Satan, that old serpent, in the account of the book of the Revelation, is described as hunting down all of these saints; "young newborns" established and sealed in their wonderful salvation. Moreover, Satan-Lucifer does not want them to take the Mark of the Beast just to escape death. On the contrary, he wants to root them out. God secures them so they CAN'T and WON'T take the Mark. That's how faithful our LORD is to keep us all until our redemption is complete!
It's a new "holocaust" sacrifice by "the fire" of trial and testing of an unparalleled scale and peril. Mass executions demanded by Lucifer are committed against these saints. And indeed the Scriptures reveal that he "wears them out". His temporary victory is very short lived!
The wrath of God finally falls in judgments upon Antichrist's Kingdom largely made up of the "earth dwellers" who serve Satan-Lucifer. Humans are also included that give up to the Beast and that take the Mark of the Beast in worship of... and submission to... the false Messiah. They will be doomed. These humans will have rejected the truth of the Gospel and the salvation of the LORD. They will blaspheme and give their total allegiance and worship to the Beast (False Christ) and the Dragon (Satan). There is no salvation possible for them as their fate is sealed.
The biblical understanding of "imminency" is prophetically indispensable.
ALL other aspects about "future things yet to unfold" bow to the supremacy of this New Testament teaching. A proper understanding of the Holy Scriptures in this area will serve as a foundation for a growing, vibrant faith; a "walk of faith" daily with our precious Lord and Saviour. The teaching of this truth provides hope for every day. It contributes a proper framework for living. It keeps our priorities right. We need daily direction from the LORD to focus on HIS agenda only. And indeed, "imminence", rightly understood, gives motivation moment by moment to live in the light of the LORD's presence, plan and purpose for our earthly life journey.
The book of Titus has some very important doctrine to refute the antagonists who are against the teaching of the imminent return of our Lord. Let's first turn to Chapter 2 to see some key verses:
11For the grace of God that bringeth salvation hath appeared to all men,
12Teaching us that, denying ungodliness and worldly lusts, we should live
soberly, righteously, and godly, in this present world;
13Looking for that blessed hope, and the glorious appearing of the great God and our Saviour Jesus Christ;
14Who gave himself for us, that he might redeem us from all iniquity, and
purify unto himself a peculiar people, zealous of good works.
15These things speak, and exhort, and rebuke with all authority. Let no man
despise thee.
Verse 11 is referring to Jesus' first coming, bringing salvation, states "hath appeared to ALL men" (and is for all who receive this gift of salvation).
This is the grace (and mercy) of God!
And then verse 12 continues...saying that as a result of salvation, we are taught to live soberly, righteously and godly; denying ungodliness and worldly lusts in this present world...
Verse 13 is the knock out punch!
...looking for that blessed hope, and the glorious appearing of the great God
and our Saviour Jesus Christ;
continuing the thought...
14Who gave himself for us, that he might redeem us from all iniquity, and
purify unto himself a peculiar people, zealous of good works.
I noticed few people take the time to actually explore this teaching of "imminence", the BLESSED HOPE...
...or even define what it means. Or they let it be purely an academic debate among various options concerning how and when the Lord Jesus Christ's return will unfold.
The prophetic calculations of the final time-line will have the MOST important meaning to those unsaved "Christians" left behind AFTER the resurrection-translation. Many will then turn to the truth!...and get saved.
Matthew Chapter 7 warns against those who think of themselves as "Christian" but they have never become KNOWN by Jesus. They use His name to preach, do good works and even cast out devils but they come up short because they have never been born again. These are victims often of the deceptive variations of "churchianity", and not true believers in the "glorious Gospel" of authentic Christianity. The parable of the 10 virgins pertains to this in the story of 5 who were ready and had their lamps trimmed and oil in their lamps (symbol of the Holy Spirit). The other 5 virgins were not ready and had no oil! When the Bridegroom came they were left behind while the others went to the wedding feast.
For Jesus' true bride (His true born again children), the real focus is on His "receiving" us unto Himself to go to the Father's House to be with HIM where He is, even potentially, right now!
Yes, I know what you might be thinking! Yes, He is indwelling us; in our "hearts" (the inward man) as an omnipresent member of the eternal Godhead; however, He is also physically present in Heaven in His resurrected and glorified "superhuman" immortal body preparing our place in the Father's house; the NEW JERUSALEM!
Perhaps Today! Suddenly! He appears in the air for us!
Are you ready? Do you know Him? More important question...does He know you!
(Read Matthew 7 carefully...and prayerfully)
Are you "waiting on the LORD" and watching expectantly while witnessing to others about the truth of the "glorious Gospel" that they might be saved?
Are you going about the Father's business? Are you keeping your "lamps burning", "full of oil" and your "loins girded about you"? Or are you living for self, focused on the cares of this world and making provision for the flesh? Or are you "working" to "do good" while just "going along to get along", prepping for survival through the coming chaos, trying to protect yourself, your family, your property and your holdings, thinking the Lord Jesus delays His coming until sometime inside the 7 year final countdown?
We must be ready for very hard times. Well, the hard times part of their focus may indeed be right as believers have suffered down through history and they will continue to do so if they believe the Bible. However, we are not appointed unto wrath which is coming upon this earth and the "earth dwellers".
"Yea, and all that will live godly in Christ Jesus shall suffer persecution". 2 Timothy 3:12
"For God hath not appointed us to wrath, but to obtain salvation by our Lord Jesus Christ;"
1 Thessalonians 5:9
Admittedly, some who do believe in the imminent "rapture" of the dead and living saints, are NOT watching and waiting...and they are NOT holding out faithful. They are instead living in fleshly sinful ways; in a manner that they should not. They are double minded; one foot in the world and one foot in their "insurance" of "salvation" through Jesus. (if they are even saved to begin with!) They want this world's "goodies" (the lust of the flesh, the lust of the eyes and the pride of life); and their agenda has been interfering with the LORD's agenda. They have become "compartmentalized"..."serving Jesus" part time on their terms; in church or doing their favorite charitable "good work" while living for self in their "me planet"; of money, fame, power, prestige, position, career, hobbies, family vacations and the like...in summary; the "good life".
The Holy Spirit urges us in Titus Chapter 1 to warn those who are caught in this web of deception:
9 Holding fast the faithful word as he hath been taught, that he may be able by
sound doctrine both to exhort and to convince the gainsayers.
10 For there are many unruly and vain talkers and deceivers, specially they of
the circumcision: (Jews trying to go back to the Law of Moses)
11 Whose mouths must be stopped, who subvert whole houses, teaching
things which they ought not, for filthy lucre's sake.
Let's consider deeply the implications of imminence and view the New Testament record through this truth.
Imminence is the very foundation of future prophecy for the New Testament. We shall see clearly that the Lord Jesus, while on the earth, is the first one to provide this vital teaching. He treats it as an imperative; "Let not your heart be troubled" (John 14). Remember, concerning Jesus; in all (things) he might have the preeminence" (Colossians 1), therefore "the testimony of Jesus is "the spirit of prophecy" (Revelation 19)...and that infers all prophecy, both the preaching of the word of God and the divine revelation of events yet future. (forth-telling and fore-telling)
First, let us look at the general meaning of the word "imminent:"
It is a quality or condition of something or some event in a state of being about to occur. An "occurrence" (of a given event) could happen at any moment but not of a necessity, because the event's actual detailed timing is unknown. The expectation of the event is of an "any moment" nature or "very close at hand"....recognizing that based on scripture, the exact timing cannot be known or predicted.
In time you will see that the entire tone of the New Testament is full of a spirit of "imminency". And the Old Testament foreshadows this beautifully with its spiritual typology. In the Old Testament, sudden "translations" of people (or "raptures" if you please) occurred. Moses, Enoch and Elijah point to this important principle of imminency veiled in their histories. The New Testament unveils the full significance in light of Jesus and the Gospel. These are Bible studies for yet another time and place but on your own reading you can see the LORD God introducing us to His sudden appearing and also the sudden removal of individuals.
Imminency, as it relates to Bible prophecy, simply means that the return of the LORD Jesus Christ to "receive unto" Himself, His true Body and Bride (the Church), could occur suddenly at any moment.
Stay with me and you will see it has been this way since the earliest years of the primitive first-century churches. You will see that no warning signs are required to indicate a short-term specific "countdown" to this event.
We as Christians remain on alert 24 hours a day, 7 days a week. This condition of "expectancy" and patient "waiting, watching and holding out faithful" for the expected "any moment" resurrection-translation, started in ancient history, from the very beginning of the New Testament local churches and has continued generation after generation until Satan was able to use the corrupt church powers to mislead and deceive the people.
The only way for the resurrection-translation (aka "rapture") to be truly imminent is to have it transpire before the 70th week of Daniel's prophecy which establishes a time-line concerning the first and second coming of the Messiah (Jesus). If the Lord's churches were required to wait until after the manifestation of certain events, then there would be no doctrine of imminency.
The Crown Jewel Of Proofs
Daniel prophesied that there would be a final 7 years for this earth's curse of sin, leading to the complete triumph of the Messiah (Jesus) over His enemies. Multiple places in the holy scriptures confirm this time period. This is commonly called "the Tribulation" but more accurately it is simply the 70th and final week for the time-line of Daniel's "70 weeks" prophecy. The last half of this 7 year period is clearly the "GREAT TRIBULATION" that commences from the "abomination that maketh desolate" where the False Messiah (Antichrist) declares himself "God" in the temple demanding to be worshiped by the 'new world order' citizens and the global superstate religious system. This "time of Jacob's trouble" (Jeremiah 30) is the same period of "great tribulation".
A spiritually corrupt Israel, as a newly established political entity (1948), is at the center of this conflict, hence she, the "woman" in Revelation Chapter 12 and 17, is the host nation of the Antichrist and his temple and Jerusalem is called "Sodom and Egypt" (Revelation 11).
Ezekiel describes the army of "dry bones" of the dead "house of Israel" that stands up on its feet (Ezekiel 37). The present day nation of the six pointed Hexagram Star of Moloch, Chiun and Remphan (Amos 5 and Acts 7); the symbol of 666, is ready for the false Christ, the 70th week temple and the worship of the Dragon (Revelation 13).
The pre-70th week resurrection-translation is the only view that allows for this great "rapture" event to be imminent in its timing. All the other views require a number of prophetic occurrences to take place before the sudden removal of the bride-body (churches) can be declared imminent. To be looking for the imminent return of Christ (for his own children), you have to believe in a pre-70th week ("7 year Tribulation") resurrection-translation.
Jesus repeatedly said that His return for the churches would be a surprise. The Lord even went beyond that by saying He would return "as a thief" when believers generally won't be expecting Him to come for them.
"But of that day and hour knoweth no man, no, not the angels of heaven, but my Father only". (Matthew 24:36).
"Watch therefore: for ye know not what hour your Lord doth come. But know this, that if the goodman of the house had known in what watch the thief would come, he would have watched, and would not have suffered his house to be broken up. Therefore be ye also ready: for in such an hour as ye think not the Son of man cometh. Who then is a faithful and wise servant, whom his lord hath made ruler over his household, to give them meat in due season? Blessed is that servant, whom his lord when he cometh shall find so doing". (Matthew 24:42-46 KJV).
"Watch therefore, for ye know neither the day nor the hour wherein the Son of man cometh". (Matthew 25:13).
"And he said unto them, It is not for you to know the times or the seasons, which the Father hath put in his own power". (Acts 1:7).
Now the CROWN JEWEL is John 14: 1-3...
Jesus is talking with his disciples in an intimate setting. These young and immature followers of the Lord Jesus in His earthly ministry have no information yet about what we have just discussed.
The New Testament Scriptures don't exist yet.
Jesus begins: "Let not your heart be troubled: ye believe in God, believe also in me. 2 In my Father's house are many mansions: if it were not so, I would have told you. I go to prepare a place for you. 3 And if I go and prepare a place for you, I will come again, and receive you unto myself; that where I am, there ye may be also. 4 And whither I go ye know, and the way ye know. 5 Thomas saith unto him, Lord, we know not whither thou goest; and how can we know the way? 6 Jesus saith unto him, I am the way, the truth, and the life: no man cometh unto the Father, but by me."
HE IS COMING TO GET US!
This wonderful passage is clearly promising that Jesus will come to get us first and take us to the Father's house. We must first go with Jesus to the Father then we can receive our preparation for our return to the earth with our glorious King of Kings, to witness our Lord Jesus take over the kingdoms of this world.
Revelation 11 verse 15 is a very different tone than John 14: verses 1-5:
"And the seventh angel sounded; and there were great voices in heaven, saying, The kingdoms of this world are become the kingdoms of our Lord, and of his Christ; and he shall reign for ever and ever."
He is the Lord of Lords who will rule and reign for 1000 years and we help administrate this glorious Kingdom. And then the end comes; the final conclusion of God's revealed plan of the new heaven, new earth and the new Jerusalem.
"Then cometh the end, when he shall have delivered up the kingdom to God, even theFather; when he shall have put down all rule and all authority and power. 25 For he must reign, till he hath put all enemies under his feet."
1 Corinthians 15: 24-25
Acknowledging the biblical certainty, that we cannot possibly know the timing of our Lord's return for His bride (and body) is essential because of the explicit statements in the Scriptures. This leads to another important "time sequence" reality; namely that the 7 year "Tribulation" (the final 70th week of Daniel) would be an obstacle to the great catching away "rapture" event because it would contradict the statements of Scriptures that no man can know the day or the hour of the resurrection-translation because when he 70th week begins, the believers at that time will indeed know. And that is by the LORD's express design. He wants them to know so they can endure to the end if He allows them to escape martyrdom. And many will indeed escape as the remnant of believers hidden away through the wrath of God's judgment.. This especially pertains to those in Jerusalem and Israel that flee as a result of the abomination of desolation in the temple.
Perhaps simply stated, the 7 year countdown cannot commence until the resurrection-rapture has already occurred at some point before the confirmation of the covenant by the false Christ, the man of sin, the son of perdition, that "Wicked" one. The time between the Resurrection-rapture and the 70th week beginning is an indeterminate period but it is reasonable to accept the idea that it will be in very close proximity as Satan-Lucifer would now have free reign over the earth. The Holy Spirit removing the Bride leaves this world without the salt and light that restrained the decay. This decay is very rapid after the Resurrection-Rapture.
An important warning at this juncture is necessary. Do not let the prophetic time-line confusion worsen by assuming the resurrection-rapture triggers the 7 year countdown per se. It does not biblically state this, although it may coincide with what DOES trigger the countdown which is the "confirmation of the covenant" by the "prince of the people that shall come". (Daniel 9). Who is this prince? The False Christ of Satan-Lucifer, who is the fallen one and adversary of God and all humanity.
It may be the Lord's plan to delay Jesus' coming for us until we are in the midst of great signs (not the final 7 years yet) such as the time frame of Psalm 83; the destruction of the heathen nations (mostly Arab Muslim and Terror groups) surrounding and touching the borders of Israel. Then there is the Ezekiel 38-39 invasion by a confederacy against Israel by other nations and terror groups located further out from Israel. The list is in the prophecy. The open arrival and activities of the Antichrist system, and the precursors to the Mark of the Beast may also occur before the resurrection-translation (rapture), but that does not change the "imminence" factor. We have witnessed great wars and rumors of wars, famines, pestilence, earthquakes in divers places and other warnings all during the twentieth century, so we KNOW our departure is more imminent than ever!. The resurrection-translation (rapture) could be on either side of the time-line for those events...before of after Psalm 83 or Ezekiel 38-39. Nothing in the Scripture's prophecies HAS to be fulfilled BEFORE the "rapture" of the Bride and body of Christ.
If we make any of these events "requirements before Jesus comes for us", we would have no need to watch for Him before the 7 weeks countdown begins...
If the churches were required to go through all or part of this seven-year period, you would expect the New Testament writers to have warned us to be prepared for unparalleled global chaos; way beyond just the suffering through trying times as true believers have always experienced.
On the contrary, the New Testament repeatedly tells the churches to be comforted by the "coming of the Lord" (1 Thessalonians 4:18). The word "comfort" alone strongly implies the resurrection-rapture will take place before the 70th week.
Some anti-imminency folks try to solve the problem they have with the resurrection-rapture's any-moment occurrence by redefining it as merely indicating that Christ will return soon. The speed of Christ's advent is not the issue. If a known event is required to take place before the Lord can return, there is no need to remain watchful today or tomorrow...or even this year.
If a person should make it through the 7 year period until the point when the mid-trib, pre-wrath, and post-trib folks expect the resurrection-rapture to occur, it would then become possible for this even to be classified as "imminent." However, once you solve the problem of imminency, you create another one regarding the restrictions against knowing the timing of the resurrection-rapture.
Because the duration of the 7 year period is already known, "post-tribbers" have the hardest time dealing with the resurrection-rapture's timing. Some of them have tried to suggest that believers who make it through the 7 year period will lazily lose track of the nearness of Christ's second coming.
Other schemes have been developed using elaborate concepts of time relativity; differences for earth time compared to heaven time. They propose a model where we resurrect-translate near the end of the 7 years, going up, but looking at it from earth's time, it seems we are coming right back down for the establishment of the Kingdom of Christ (even though from heaven's perspective a good deal of time has passed).
If a Christian has been fortunate enough (or "unfortunate enough" may be a better view) to survive a host of tribulation calamities and elude the Antichrist's secret police for at least 3 1/2 years or more, it would be hard to imagine that he (or she) would be oblivious to the nearness of the Lord's return at the end of the 7-year mark.
If I were reduced to the point of having to hide "off the grid" in an underground manner, not able to buy or sell in the world's economy; facing far worse than the Jews faced in Nazi Germany, just to sustain myself, I'm certain my every thought would be focused on the Lord's return.
Maranatha
One the strongest cases one can make for the early churches expecting an imminent return of Christ is to note their use of the word maranatha, which was used as a greeting in those days. When believers gathered or parted, they didn't say "hello" or "goodbye"; they would say "Maranatha!"
I've encountered some writings that say Maranatha is a Hebrew or Greek word, but it is actually of Chaldean origin that became an Aramaic expression (Aramaic is a blend of Hebrew with Persian and other Semitic influences – a "mongrel" tongue). Maranatha is made up of three Aramaic word parts: Mar, which means "Lord"; ana, which means "our"; and tha, which means "cometh."
So when you put it together, maranatha means "Our Lord, cometh." It perfectly conveys the concept that the Lord could come at any moment. Maranatha is used once in the Bible by Paul as part of a curse.
In 1 Corinthians 16:22, Paul said, "If any man love not the Lord Jesus Christ, let him be Anathema Maranatha." The word "anathema" means "cursed," so Paul was saying, "Let that unbelieving man be cursed when our Lord cometh."
The interesting thing about maranatha is that it comes in the form of a spiritual slogan; a declaration and statement of doctrinal belief. When a Christian in the early churches would make this statement, he was actually reaffirming the truth that "our Lord cometh" (implying "any moment") and if anyone loves not the Lord, that man is a cursed enemy (implying what will befall that person). This obviously implies also the belief that it was possible for Jesus to fulfill this truth "in a moment, in the twinkling of an eye"...and at any given moment, reinforcing "imminence".
If members of the first-century churches believed that certain events needed to take place before the Savior could return for them, they would have been foolish to greet each other with "maranatha." They lived nearly 2,000 years ago, and yet they seem to have had a deeper awareness of imminency than many of today's Christians.
The Historical Record
Many of the contemporary writers who attack imminency try to promote the idea that this doctrine was recently dreamed up by men who were ignorant of the true meaning of Scripture.
One detractor states, "This frenzy [imminency] continues to survive today because of modern misconceptions about the purpose of these prophetic events and the time frame for their occurrence."
Post-trib believers are the most vocal in their claim that the concepts of imminency and the pre-70th week resurrection-rapture only date back to the mid 1800s. For several years, their charges went unanswered, but recently a number of men have dusted off old manuscripts and found several early major local church leaders who were clearly looking for an imminent return of the Lord Jesus.

                                               1300 years ago

"All the saints and elect of God are gathered together before the tribulation, which is to come, and are taken to the Lord, in order that they may not see at any time the confusion which overwhelms the world because of our sins" (Pseudo-Ephraem - 374-627 AD).

1700-1900 years ago
The First Epistle of Clement, 23 (written around 96 A.D. by Clement, a prominent leader of the church at Rome who knew some of the apostles personally (and probably is the Clement referred to in Phil. 4:3): "Of a truth, soon and suddenly shall His will be accomplished, as the Scripture also bears witness, saying, 'speedily will He come, and will not tarry.'"
As early as 70 - 180 AD, The Didache, chapter 16, section 1, says, "'Be vigilant over your life; let your lamps not be extinguished, or your loins ungirded, but be prepared, for you know not the hour in which our Lord will come."
Third Century
"But what a spectacle is that fast-approaching advent of our Lord, now owned by all, now highly exalted, now a triumphant One!" (Tertullian 155 - 245 AD).
Back to the 1500's
John Calvin, the reformer at Geneva during the 1500s and founder of the "Presbyterian Church", made the following statements in some of his commentaries on books of the Bible: "Be prepared to expect Him every day, or rather every moment." "As He has promised that He will return to us, we ought to hold ourselves prepared, at every moment to receive Him." "Today we must be alert to grasp the imminent return of Christ."
Commenting on 1 Thessalonians 4, the "Rapture passage," Calvin said that Paul "means by this to arouse the Thessalonians to wait for it, nay more, to hold all believers in suspense, that they may not promise themselves some particular time . . . that believers might be prepared at all times."
1600's
The Westminster Confession, written by the Puritans of England during the 1600s, declared that men should "shake off all carnal security and be always

watchful

, because they know not at what hour the Lord will come."
1700's
1748 – Theologian and Minister John Gill (Commentary on the New Testament) – taught of the imminent return of Christ, first in the Rapture, and then He returns again to judge the earth (Armageddon).
"I say, somewhat more because the dead saints will be raised, and the living changed at Christ's 'appearing in the air' (1 Thessalonians 4:17); and this will be about three years and a half before the millennium, as we shall see hereafter: but will he and they abide in the air all that time? No: they will ascend to paradise, or to some one of those many 'mansions in the father's house' (John 14:2), and so disappear during the aforesaid period of time." (Morgan Edwards 1742-44, a mid-trib rapture position).
Early 1800's at the turn of the century
A millennialist sermon was preached before Congress on July 4, 1801 by the Reverend David Austin (born 1759) at the prime age of 42, decades before Margaret McDonald or John Nelson Darby came on the scene. Austin, having proclaimed to his Congressional audience the imminence of the Second Coming of Christ, he took up a collection on the floor of the House of Representatives to support services at "Lady Washington's Chapel" in a nearby hotel where he was teaching that "the seed of the Millennial estate is found in the backbone of the American Revolution."
I'm not much of an advocate of what "scholarly" men write about the Bible. I appreciate the historical quotes I just cited, but I don't really need a bunch of academic intellectuals to tell me what is truth. I have many copies of the "Good Old Black Book" lying around the house, and I have the ability to read and understand them for myself with the guidance of my comforter and teacher, the Holy Spirit, who wrote and preserved them using men He motivated, instructed... and when necessary refined and chastened. The words that these pure Bibles speak unto me are SPIRIT and LIFE.

History has proven that mankind is a dreadful biblical guide. The apostasy that swept over the world caused a lack of prophecy commentary from about 450 AD until the 1500s. However , the underground believers believed and protected the words of the LORD. They kept faith and sound doctrine in their hearts. In many cases they died for the sake of preserving the words of truth. In the powerful State churches, people stopped thinking for themselves in reading the words for their direct understanding. Their interpretation of the Bible became whatever the politically powerful institutional churches spoon-fed them.

Imminency and Premillennialism largely disappeared into the underground believers hands and hearts after they were condemned as heretical by the Council of Ephesus in 431 AD. It wasn't until the reform movement of the late sixteenth and early seventeenth centuries that we see a rebound in the number of statements that reflect imminent and pretribulational (pre-70th week) views.

Scriptures Abound

A host of Scriptures indicate that true churches of believers should expect an imminent return of our Lord Jesus. The opponents of imminency constantly try to pick apart each individual reference, but they should look at the big picture. An overwhelming number of verses in the Bible support imminency.

A person can easily locate 22 key passages that imply that the coming of Christ remains an imminent event. All you really need is one clear doctrinal verse to prove a point, but the weight of evidence should cause even the most hard-core imminency opponents to rethink their position and how they came to their interpretation.

I seriously doubt any scholar or layman could find 22 passages of Scripture that clearly indicate the tribulation or the rule of the Antichrist as the next imminent event facing the churches.
"But of that day and hour knoweth no man, no, not the angels of heaven, but my Father only". (Mat 24:36).
Then shall the kingdom of heaven be likened unto ten virgins, which took their lamps, and went forth to meet the bridegroom. And five of them were wise, and five were foolish. They that were foolish took their lamps, and took no oil with them: But the wise took oil in their vessels with their lamps. While the bridegroom tarried, they all slumbered and slept. And at midnight there was a cry made, Behold, the bridegroom cometh; go ye out to meet him". (Matthew 25:1-6)
"Take ye heed, watch and pray; for ye know not when the time is. For the Son of Man is as a man taking a far journey, who left his house, and gave authority to his servants, and to every man his work, and commanded the porter to watch. Watch ye therefore: for ye know not when the Master of the house cometh, at even, or at midnight, or at the cockcrowing, or in the morning: Lest coming suddenly He find you sleeping. And what I say unto you I say unto all, Watch".

(Mark 13:33-37).
"Knowing the time, that now it is high time to awake out of sleep: for now is our salvation nearer than when we believed. The night is far spent, the day is at hand: let us therefore cast off the works of darkness, and let us put on the armor of light".

(Romans 13:11-12).
"And the God of peace shall bruise Satan under your feet shortly".

(Romans 16:20)
"So that ye come behind in no gift; waiting for the coming of our Lord Jesus Christ".

(1 Corinthians 1:7).
"For our conversation is in heaven; from whence also we look for the Saviour, the Lord Jesus Christ".

(Philippians 3:20).
"Let your moderation be known unto all men. The Lord is at hand".

(Philippians 4:5).
"And to wait for his Son from heaven, whom he raised from the dead, even Jesus, which delivered us from the wrath to come".

(1 Thessalonians 1:10).
"Therefore let us not sleep, as do others; but let us watch and be sober".

(1 Thessalonians 5:6).
"That thou keep this commandment without spot, unrebukeable, until the appearing of our Lord Jesus Christ".

(1 Timothy 6:14).
"Looking for the blessed hope and the appearing of the glory of our great God and Savior, Christ Jesus".

(Titus 2:13).
"So Christ was once offered to bear the sins of many; and unto them that look for him shall he appear the second time without sin unto salvation".

(Hebrews 9:28).
"Let us consider one another to provoke unto love and to good works: Not forsaking the assembling of ourselves together, as the manner of some is; but exhorting one another: and so much the more, as ye see the Day approaching".

(Hebrews 10:24-25).
"For yet a little while, and He that shall come will come, and will not tarry".

(Hebrews 10:37).
"Be patient therefore, brethren, unto the coming of the Lord. Behold, the husbandman waiteth for the precious fruit of the earth, and hath long patience for it, until he receive the early and latter rain. Be ye also patient; stablish your hearts: for the coming of the Lord draweth nigh. Grudge not one against another, brethren, lest ye be condemned: behold, the judge standeth before the door".

(James 5:7-9).
"Wherefore gird up the loins of your mind, be sober, and hope to the end for the grace that is to be brought unto you at the revelation of Jesus Christ".

(1 Peter 1:13).
"But the end of all things is at hand: be ye therefore sober, and watch unto prayer"

(1 Peter 4:7).
"Keep yourselves in the love of God, looking for the mercy of our Lord Jesus Christ unto eternal life".

(Jude 1:21).
"Behold, I come quickly: hold that fast which thou hast, that no man take thy crown".

(Rev 3:11).
"Behold, I come quickly: blessed is he that keepeth the sayings of the prophecy of this book"

(Rev 22:7).
"He which testifieth these things saith, Surely I come quickly. Amen. Even so, come, Lord Jesus"

(Rev 22:20).



Now let me turn to some biblical exhortation especially to those who deny imminency.
2 Peter 3:4a... (KJV)
"And saying, Where is the promise of his coming?"...
"Christian"... Are you NOT Holding Fast, NOT Watching And NOT Waiting?
Let us first explore the timing options of the "resurrection-translation" event of the Lord's churches, the bride and body of Christ...such as in "Post-Tribulationism"...and other related variations of opinions about the timing of Jesus' return. We want our inquiry into the implications to be strictly bible truth and sound doctrine led to us spiritually by the Holy Ghost.
Growing ranks of "millennial reign" adherents, (both true Christians and deceived "Christians") deny the teaching of "imminency"... They regard themselves as "mid trib", "post trib", "pre-wrath", "pre-70th week", and others. These labels become tedious and distracting to the main question of "imminency".
Many agree that Jesus will physically reign on this earth. They are known as "Millennialists" or "Millennarians". The earth will be renovated, cleansed, the curse lifted and a glorious Theocracy under Jesus' rule and authority will be established for one thousand years. Many others in "Christendom" do NOT hold this position.
Regardless of your position on this point, "imminency" stands out independently.
Many also hold to some or all of the points made by Augustine and much later, John Calvin concerning doctrines. Sovereignty and Man's Will is just one area of debate. Your position on Calvinism by no means should affect your biblical approach to "imminency". I personally have many concerns with Calvinistic doctrine but don't let my statement of that position discourage you if you are a Calvinist to consider this doctrine of imminency. Calvin taught about imminency; one sure point of agreement I do have with him.
For the sake of discussion, let's refer to anyone denying an "any moment" occurrence possibility of the "resurrection-translation" as "anti-imminency" because regardless of the timing variations, they all declare two basic things:
1. "Jesus can't come today"...
(unless they allow for a special "personal appearance" or "vision" of a "Charismatic-Pentecostal" experience)
2. "We know, specifically, when Jesus is coming to establish His kingdom" (with one disclaimer or qualifier)...
Certain preconditions must be met and the final 70th week countdown must begin based on Daniel 9: 26-27.
However, there is even one more "caveat"...
"We know"...but we cannot know to the very day and the hour, which applies only to the resurrection-translation.
Why this qualifier? Because that would clearly contradict the scriptures that emphatically state: "But of that day and that hour knoweth no man, no, not the angels which are in heaven, neither the Son, but the Father." (Mark 13:32)
The Start of the final "week" of years countdown...
Daniel 9: 26 and 27
26 And after threescore and two weeks shall Messiah be cut off, but not for himself: and the people of the prince that shall come shall destroy the city and the sanctuary; and the end thereof shall be with a flood, and unto the end of the war desolations are determined.
27 And he shall confirm the covenant with many for one week: and in the midst of the week he shall cause the sacrifice and the oblation to cease, and for the overspreading of abominations he shall make it desolate, even until the consummation, and that determined shall be poured upon the desolate.
There are serious issues intertwined with 'Anti-imminence':
...issues such as: works-based churchianity, grievous errors in salvation teaching and divisive critical spirits against those who disagree with them. The Scriptures call them guilty of "vain jangling". They are behaving somewhat as "dissemblers" and "prating" (like Diotrophes) using expressly forbidden "private interpretation" as it is being applied to prophecy teaching concerning the return of Jesus. They misdirect attention to the coming 7 year countdown while missing some of the intimate bride promises which lead later to the "consummation", the "times of refreshing" and the "restitution of all things".
Extremists of this persuasion view my position as "heretical". Their blind pride has taken them captive.
"From which some having swerved have turned aside unto vain jangling;" (1Timothy 1:6)
"I have not sat with vain persons, neither will I go in with dissemblers." (Psalm 26:4)
9 "I wrote unto the church: but Diotrephes, who loveth to have the preeminence among them, receiveth us not. 10 Wherefore, if I come, I will remember his deeds which he doeth, prating against us with malicious words: and not content therewith, neither doth he himself receive the brethren, and forbiddeth them that would, and casteth them out of the church."
(3 John: 9-10)
Like Diotrophes who would not even allow the Apostle John into "his" church, these "brethren" view me with suspicion because of my biblical stand on the teaching of imminence.
19 "Repent ye therefore, and be converted, that your sins may be blotted out, when the times of refreshing shall come from the presence of the Lord; 20 And he shall send Jesus Christ, which before was preached unto you: 21 Whom the heaven must receive until the times of restitution of all things, which God hath spoken by the mouth of all his holy prophets since the world began." (Acts 3: 19-21)
There is a stark contrast and difference between Jesus' sudden and shocking personal "appearing" in the air compared to His dramatic triumphant return to rule and reign on the earth...
"Knowing this first, that no prophecy of the scripture is of any private interpretation."
(2 Peter 1: 20)
What is the bible evidence for "imminence"? What do the words "imminent" and "imminence" mean in this prophetic context? Did the earliest true believers embrace this teaching of "imminence"? Are these words even found in the historic English texts? Or are their equivalents found in the original ancient biblical languages? Where does this teaching originate? When was this first used or first appear?
The numbers of skeptics against a "resurrection-"rapture" before...and possibly even years before...the final "70th week of Daniel"; of "the bride and body of Christ", are growing in "Christian" circles. Their disdain for the "imminent nature" of Jesus' appearing for a "bride-body" church age group of saved believers is also growing...
Jesus warns them sternly:
Revelation 3:3
"Remember therefore how thou hast received and heard, and hold fast, and repent.
If therefore thou shalt not watch, I will come on thee as a thief, and thou shalt not know what hour I will come upon thee."
This verse "tucked away" in the middle of the dramatic unfolding events in the book of "The Revelation of Jesus Christ" is a strong warning to "believers" who deny the imminent return of the Lord Jesus Christ for his body and bride; His true Church (all of the true saved ones in all of the local churches down through history); His born again offspring.
This verse also is a sober warning to the "unbelievers" who deny Jesus Christ (Messiah) altogether! They redefine Him as something less than God, the Creator...and they deny that He is mankind's only hope as the one true Saviour, "God manifest in the flesh"...GOD took on a human body!
The biblical teaching of the "imminent appearing of Jesus" to receive His own unto Himself (John 14), promotes a heart to WATCH daily; to be ready for His appearing and to anticipate our meeting Him together in the air on any given day. (or night perhaps – as pictured in the "midnight cry" mentioned in Matthew 25 - of the ancient Jewish weddings' tradition - another discussion for another article).
33 "Take ye heed, watch and pray: for ye know not when the time is. 34 For the Son of man is as a man taking a far journey, who left his house, and gave authority to his servants, and to every man his work, and commanded the porter to watch. 35 Watch ye therefore: for ye know not when the master of the house cometh, at even, or at midnight, or at the cockcrowing, or in the morning: 36 Lest coming suddenly he find you sleeping. 37 And what I say unto you I say unto all, Watch." (Mark 13: 33-37)
We should therefore (as a consequence) be motivated to WATCH by walking in the SPIRIT in excited anticipation of his sudden expected return...and to witness, at all times, taking every "Holy Spirit led" opportunity, concerning "the glorious Gospel of Christ" to speak to the unsaved and unbelieving showing them the words of God. They need to be motivated by our "earnest expectation" and sincere compassionate concern for their soul, thus seeing their need to be SAVED TODAY.
NOW is the day of salvation!
2 Corinthians 6: 1 - 2
1 "We then, as workers together with him, beseech you also that ye receive not the grace of God in vain. 2 (For he saith, I have heard thee in a time accepted, and in the day of salvation have I succoured thee: behold, now is the accepted time; behold, now is the day of salvation.)"
"For the earnest expectation of the creature waiteth for the manifestation of the sons of God." (Romans 8:19)
Our sense of urgency should be infectious. Our urgent seriousness should become their sober urgency also... as we witness and testify to them as unsaved and lost people. Time may run its course giving way to Jesus' appearing; the resurrection-translation removal of His own born again children.
The concept of "left behind" is very real...for both false "brethren" deceived by false gospels or the unbelieving altogether, concerning Jesus and the true Gospel.
Moreover, physical death may suddenly overtake either type of person, "believer" or "unbeliever", sadly ending the unbeliever's opportunity to be truly saved in this final period of time in the prophetic sequence leading up to the actual wrath of God on the earth in judgment of His enemies.
We should therefore learn to deny our own self interest and agenda...to deny our fallen flesh wherein we find "indwelling sin" (Romans 6)...and we should be motivated to take up our own cross; reckoning our flesh "crucified with Christ"; regarding every day as our privilege for service 24/7 to follow and obey Jesus.
Our biblical and proper understanding of "imminence" should also foster a heart for "redeeming the time" to "work for the night cometh when no man can work"...to possess the singular urgent focus to "win" lost people and thereby fulfill God's greatest purpose for us...to be a part of the great commission...the grand plan of witnessing, discipling, teaching, baptizing and sending out others to do the same all over the world.
The "any moment" nature of the sudden appearing of Jesus for us, should motivate us to keep our bodies in subjection; walking not after the flesh but after the Spirit. Moreover, we should learn to present our bodies a living sacrifice, holy and acceptable unto God...which is our reasonable service...every day!
In the blinding light of Jesus' appearing, even as Paul experienced at his conversion and calling; a call to the pure truth and dedicated daily service, we should expect to fly away into our Lord Jesus Christ's presence in the air (the upper atmosphere) at any moment!
"Then we which are alive and remain shall be caught up together with them in the clouds, to meet the Lord in the air: and so shall we ever be with the Lord."
(1 Thessalonians 4: 17)
In the light of what God has done for us through His Son; and also shown us of the possibility of His sudden appearing for us...we should have a daily desire to "walk in the light as He is in the light to have FELLOWSHIP one with another".
However, fellowship among "brethren" is being broken by strife and vain glory. The question must be asked "are they really brethren"?
The deceptive sower of false teaching has sown tares among wheat; discord among peace and unity! A false doctrine that Jesus CANNOT come at any moment has led to a prideful and arrogant spirit among some who profess Christ; causing a breakdown of that fellowship among "brethren".
Sadly, there are those "professing" believers, who do NOT watch and wait for the Lord to come for them at any moment. On the contrary, they resist the truth in stubborn unbelief of many clear scriptures; preferring their own traditions formed with men of like heart and confusion.
Moreover, their salvation doctrine is often corrupted by false teachings that you can LOSE your gift of salvation...making redemption depend on a person's own efforts of "striving", "holding out faithful", "maintaining good works" etc. to keep their salvation efficacious (valid and effective); to avoid "falling from grace", or having their "name blotted out", thereby removing the "blessed assurance" and the "eternal security" we should have in Christ.
Their concept of eternal life is ambivalent; conditioned on their works (in part)...and therefore, not so "eternal". These doubters deny the blessed hope of imminent resurrection, wherein all the saved and born again saints living at any moment in time, are changed in the "twinkling of an eye"...
Matthew 24 has important verses to ponder and meditate upon...
36 "But of that day and hour knoweth no man, no, not the angels of heaven, but my Father only."
48 "But and if that evil servant shall say in his heart, My lord delayeth his coming;
49 And shall begin to smite his fellowservants, and to eat and drink with the drunken;
50 The lord of that servant shall come in a day when he looketh not for him, and in an hour that he is not aware of,
51 And shall cut him asunder, and appoint him his portion with the hypocrites: there shall be weeping and gnashing of teeth."
"Smite"..."fellow servants"?...as in "brethren" with a proud heart of "private interpretation? And a condemning spirit of division? ...slandering and verbally accosting other believers because of secondary doctrinal disagreement? It's one thing to "disagree agreeably" on prophetic "future things"...a secondary area of doctrinal unity. However, to disagree on salvation doctrine is grievously devastating. There is no true fellowship of eternal light with this darkness.
Amos warns:
"Can two walk together, except they be agreed?" (Amos 3:3 KJV)
Over many years I have had amicable open discussions with fellow believers that hold differing timing "models" for the "second coming"...but in these more recent times, a hostile, condemning crowd has arisen...an almost militant "Post-Tribism" crowd. I find many of them don't even have their salvation doctrine straight or they waiver between two positions of ambivalence claiming they are not sure about "assurance" and "eternal security" of the true saved born again child of God.
These same people often are ambivalent about the purity and preservation of God's words...they scavenge through every version available looking subjectively for "the ring of truth"...some even oppose and attack the historic, time tested and proven trustworthy text that circumnavigated the globe with truth and the Gospel witness concerning Jesus Christ... and a holy text that founded another "Gospel lighthouse" of free men in a new American nation; the greatest "under God" government the world has ever known outside of King David's ancient kingdom of Israel.
Furthermore, these questionable believers are (more often than not),"unstable" in their other key doctrinal beliefs falling prey to the corrupt "Alexandrian theology" of Philo, Pantaenus, Sacas, Clement and most grievous, Marcion, Origen, Plato, Eusebius and Augustine. This has reappeared as the "New Age" pseudo-christian theology of today. It is supported in the modern "bible" versions with the changes from the corrupt revised Greek text and the subsequent "translated" English versions that have flowed from Greek wisdom (pagan) to Alexandria, then down through history to today's seminaries, "bible" colleges and "bible" societies. The last 300 years has seen a flood of "christian" cults, "christian" denominational groups and many new "bible" translation variants sympathetic to the Alexandrian teachings.
These men from Greece, Egypt and Rome are NOT church "fathers" but heretical teachers that were contemporaries of...or later followed in history the only true Apostles. These "wolves posing as sheep" appeared repeatedly in the 2nd, 3rd and 4th centuries A.D...as Satan was laying the ground work for his false "churches". And today there are thousands of corrupt groups to ensnare people; those folks who do not "study" the proven pure bibles to demonstrate to God their serious pursuit of His truth, the whole truth (that really matters) and nothing but the truth.
2 Timothy 2
14 Of these things put them in remembrance, charging them before the Lord that they strive not about words to no profit, but to the subverting of the hearers.
15 Study to shew thyself approved unto God, a workman that needeth not to be ashamed, rightly dividing the word of truth.
16 But shun profane and vain babblings: for they will increase unto more ungodliness.
The Alexandrian men corrupted the pure words of the LORD trying to conform them to their Gnostic, Platonic and pagan beliefs. The Catechetical school at Alexandria, Egypt was the hotbed of this activity and source of the corrupt Greek translation of the Old Testament known as the Septuagint. (subject for another time and article)
At best, these "Post-tribism" people are mis-taught by their teachers...or at worst have moved the authority from their false teachers and false "scriptures" to themselves assuming their own final authority (from their own "private interpretation")...over truth.
James warned us:
"A double minded man is unstable in all his ways." (James 1:8 KJV)
The Old Testament tells us:
"And Elijah came unto all the people, and said, How long halt ye between two opinions? if the LORD be God, follow him:..." (1Kings 18:21a -KJV)
Again, consider verse 36...in Matthew 24...
36 "But of that day and hour knoweth no man, no, not the angels of heaven, but my Father only."
Some post tribulation "pushers" and "promoters" slander and create division; coming against those who disagree with them, even when the accused have proven to be honest, soul winning believers with a devout conscience and personal faith walk with the LORD. These critics have fallen into making mean accusations and open railings against "brethren" calling them "deserters" and "cowards" and "AWOL"...guilty of "escapism theology" etc. …
They proudly and boastfully assert their "scholarship"; claiming they know exactly when the Lord is coming once the official countdown starts (Daniel 9). Confusing and mingling the great John 14 passage (where Jesus is retrieving His own bride as the Bridegroom) with many other great passages about the triumphant return of the KING of Kings and LORD of Lords to rule and reign on the earth for the 1000 year Theocracy with His "Bride" and "Body" reigning with Him as priests and kings unto our God.
Matthew 24 continues...
42 "Watch therefore: for ye know not what hour your Lord doth come.
43 But know this, that if the goodman of the house had known in what watch the thief would come, he would have watched, and would not have suffered his house to be broken up.
44 Therefore be ye also ready: for in such an hour as ye think not the Son of man cometh."
Luke 12 gives us a glimpse of the believers during Daniels's final 70th week that are saved and born again later in the midst of the final countdown to the kingdom; and after the occurrence of the great company gathered unto Jesus in the large harvest of the resurrection unto life. The great resurrection unto new glorified status; new perfect earthly bodies conjoined to their heavenly tabernacles (bodies) is the "bride of Christ" caught up ("raptured") which includes in this order...first, all of the church age saints "asleep in Jesus" (deceased in their earthly flesh) and next, the living believers; those translated in the "twinkling of an eye", alive at that moment. (1 Corinthians 15:52)
Both groups fulfill the intimate promise of Jesus given in John 14: 1 - 3.
"Let not your heart be troubled: ye believe in God, believe also in me.
2 In my Father's house are many mansions: if it were not so, I would have told you. I go to prepare a place for you.
3 And if I go and prepare a place for you, I will come again, and receive you unto myself; that where I am, there ye may be also."
This promise was given to the disciples long before the more advanced revelation was given by Jesus in the latter days of His earthly ministry (Matthew 24 for example); or even later; the heavenly vision shown to the quite elderly Apostle John to be written down (The book of the Revelation of Jesus Christ).
And the insights given to the Apostle Paul were written in His letters breathed out by the Holy Spirit for absolute sound doctrine. These words of God are "given by inspiration"; as pure words of "Spirit and "Life" of the LORD personally; and with protection and precision to never be lost. They are to be perfectly preserved forever in the eternal written word of God.
We have them and can trust them without any doubt, qualification or reservation! We can see the pure stream from Antioch and Jerusalem that culminated in our 1769 edition of the Holy Bible in English...the KJB.
All that stated, we continue...
At the 7 year "time of the end" through much tribulation and martyrdom; even "great tribulation" of the believing in Jehovah-Jesus "remnant" of the "sons of Jacob", we have all of these truly believing saints looking for and calling upon (crying out for) Jesus who returns from His wedding as the "Head" and "Bridegroom" of His "Bride" (and "body"), the "church of the first born" already in heaven.
Luke 12
34 "For where your treasure is, there will your heart be also.
35 Let your loins be girded about, and your lights burning;
(A reference connected to the parable of the ten virgins and their lamps)
36 And ye yourselves like unto men that wait for their lord, when he will return from the wedding; that when he cometh and knocketh, they may open unto him immediately."
This portrays all saints redeemed (and still living on the earth) during the 70th week; Gentiles with a remnant of believing Jews, all over the world but especially in the land of Israel, the epicenter of the unfolding final and dramatic prophetic events.
The wrath judgments on the false Christ and his kingdom are breathtaking. Jesus comes to rescue the remnant of his kindred of the flesh (from the 10 northern tribes of Israel minus Dan and the tribes of Judah-Benjamin and Simeon) for a total of 12, representing the divided two kingdoms which were finally unified in the land of present day Israel, according to Ezekiel's prophecies.
This final company of saints are ready with great earnest and anticipation...waiting and watching....and holding fast...holding out faithful...just like those "bride member saints" that have gone on before the start of the seven year final countdown.
Hebrews 9:28b
...."unto them that look for him shall he appear the second time without sin unto salvation."
Could this mean that certain confused "christian" people that believe false salvation doctrine and are quite "studied" and "knowledgeable" about the "scriptures" (thus they promote aggressively their teachings) will actually be left behind? They are not looking for Him! Why? Error leads to more grievous error...they have yet to be truly converted perhaps?
Perhaps they are reading and studying corrupt "bibles"?...Please consider this example...
The pure text states in 1 Thessalonians 3:5...
"And the Lord direct your hearts into the love of God, and into the patient waiting for Christ." (KJV)
The 'New King James Bible', a modern corrupt version, states in the same verse:
"Now may the Lord direct your hearts into the love of God and into the patience of Christ." (NKJV)
What happened to the "waiting"? And the whole subject and meaning is different!
Do you see the difference? We are to expect that the Lord is directing us into the love of God and "the patient waiting for Christ"; to receive us, His bride. The corrupt "New" King James version (NKJV) changes this completely by making Jesus the patient one (the subject) and this love of God is a statement of possibility ("Now may..."?) not a foregone conclusion.
A deceived person with confused salvation doctrine that hopes they are headed to heaven, is basing their salvation in part on their "works". They believe these works must be added to Jesus' work. "The Lamb of God" becomes to them a starting point; a partial requirement (although they would at least admit He is essential and primary for their entrance into His kingdom). They believe they have every right to use His name as though Jesus knows them personally, but the "good" works (by their fleshly standards), they have (in serious error) added to the "glorious Gospel". Would not this negate their faith for true salvation?... and destroy the truth of the "glorious Gospel" of God's amazing grace? They preach "another Jesus" and "another gospel" "which is not another". They have changed the truth of God into a lie.
Romans 11:6 (KJV)
And if by grace, then [is it] no more of works: otherwise grace is no more grace. But if [it be] of works, then is it no more grace: otherwise work is no more work.
Let's examine Ephesians 2: 8-10
"For by grace are ye saved through faith; and that not of yourselves: it is the gift of God:" (KJV)
Notice that in this pure KJV rendering, a person's true salvation is present and ongoing indefinitely - a "state of being" with no implication of ever changing. The Greek (Textus Receptus: the "Received Text") verb tense supports this specifically! Why? Because of the eternal life and security of the true "new birth" experience; being sealed by the Holy Spirit of promise with the "earnest of deposit" until the day of our salvation and redemption being complete at the great "resurrection-catching up" event of the "bride" and "body" of Christ.
The NKJV corrupts this meaning and connection to the other doctrines by making a soul's salvation, a past experience; leaving room for speculation that they might lose it at some point in the future. "For by grace you have been saved through faith, and that not of yourselves; it is the gift of God,..." (NKJV)
Do you see the problem of a "past tense" experience instead of an ongoing permanent condition? People are often heard to say "I was saved"... on such and such a date...or "I have been saved"...since such and such happened...or "I have always been a Christian"...or..."I was born a Christian"...but I must do "my part", "my best"..."or else"...
Compare those statements to - "I am saved"..."I am born again"..."I am in Jesus Christ and He is in me"..."I am secure and safe eternally in His hand"..."nothing can separate me from Him"...and other similar faith statements.
Now Continuing...the next statement in the passage...
"Not of works, lest any man should boast." (KJV)
"not of works, lest anyone should boast." (NKJV)
"man" vs. "anyone"
No serious problems there with verse 9...
(unless you believe in the ultimate reconciliation of fallen angel spirits and hybrids-devils - another discussion for another time and place)
But now look at verse 10...and keep in mind... true good works follow true salvation!
"For we are his workmanship, created in Christ Jesus unto good works, which God hath before ordained that we should walk in them." (KJV)
Unsaved "Christians" have the cart before the horse! Their salvation depends on their works in part...they use Jesus' name...they can boast partly in Jesus and partly in themselves for their works contributing to their presence in the LORD's Kingdom.
This is very characteristic of teachings in almost all of the spectrum of false "Christianity" or should I say "churchianity"...Roman Catholic, Orthodox traditions (Greek or Russian), many Protestant groups, many Pentecostal-Charismatic groups, Church of Christ (Alexander Campbell) even "independent bible" sects...and certainly all of the irregular cults or cult-like sects; Jehovah's Witnesses (Russell and Rutherford) Mormons (Joseph Smith-Brigham Young), 7th day Adventist (Ellen G. White), Christian Science adherents (Mary Baker Eddy) and numerous others.
The list of varieties of "churches" are legion. Satan uses confusion about the pure word of God and false "teachers", "ministers of righteousness", false "apostles" and false "prophets"...even Lucifer-Satan himself can transform himself into an "angel of light"...
These false Christian groups have different "works lists" or "ladders to climb" to get to heaven and God, the Father...and of course all of them use Jesus. He has to be included for the deception to be effective. These deceived "Christians" worship Him "with their lips" but their heart is far from Him! They can't be so blatant to deny what Jesus said "no man cometh to the Father but by me"...so they add their works to His all sufficient work. Or they call Him the way shower and include other religions as somehow connected to Jesus.
How far is their heart from God? Far enough to land them in Hell and ultimately the Lake of Fire. Jesus says "depart from me ye workers of iniquity"...(Matthew 7)
Matthew 7 addresses those who consider themselves "christian" and are not really saved, therefore truly "Christian" in the pure biblical sense...which is being truly "born again" of the Spirit of God with authentic conversion and the transformation that follows. They may minister in Jesus' name....preach and predict future things (prophesy) in His name, do many wonderful works in His name...and even cast out devils in His name...but Jesus declares He never knew them...and tells them to depart from Him...all of you workers of iniquity.
Matthew 7: 13-23 from the pure and trustworthy text has 10 powerful verses addressing this problem just described above...of works "churchianity"...
13 "Enter ye in at the strait gate: for wide is the gate, and broad is the way, that leadeth to destruction, and many there be which go in thereat:
14 Because strait is the gate, and narrow is the way, which leadeth unto life, and few there be that find it.
15 Beware of false prophets, which come to you in sheep's clothing, but inwardly they are ravening wolves.
16 Ye shall know them by their fruits. Do men gather grapes of thorns, or figs of thistles?
17 Even so every good tree bringeth forth good fruit; but a corrupt tree bringeth forth evil fruit.
18 A good tree cannot bring forth evil fruit, neither can a corrupt tree bring forth good fruit.
19 Every tree that bringeth not forth good fruit is hewn down, and cast into the fire.
20 Wherefore by their fruits ye shall know them.
21 Not every one that saith unto me, Lord, Lord, shall enter into the kingdom of heaven; but he that doeth the will of my Father which is in heaven.
22 Many will say to me in that day, Lord, Lord, have we not prophesied in thy name? and in thy name have cast out devils? and in thy name done many wonderful works?
23 And then will I profess unto them, I never knew you: depart from me, ye that work iniquity."
Now let's turn to others who most assuredly are born again; yet caught in this serious salvation doctrine error after they become a child of God...
The IF-THEN proposition...
IF...
...they are truly saved, because at some point in their life they cried out in childlike faith; solely in Jesus alone plus nothing else...to be SAVED. And I might quickly add; their "saving faith" was correctly (Scripturally) placed only in the Lord Jesus Christ (Messiah) as He is truly presented in the bible; as the eternal "God manifest in the flesh" (yet without sin and who became sin for us); and bringing us the grace and mercy of God through the cleansing blood of His cross as the "only begotten Son" of the Father; who bled and died, and rose again from the dead; and lives forever to make intercession for us; and is coming back for us...
THEN...
...these saved believing souls who are later deceived by false teachings, remain true born again Christians, even though they lack the "assurance" they should possess and that the LORD wants them to KNOW. They have been trapped in serious false doctrine "after the fact" of their "sealed and secure" salvation.
1 John 5:13
"These things have I written unto you that believe on the name of the Son of God; that ye may know that ye have eternal life, and that ye may believe on the name of the Son of God."
This is quite similar to what happened to the believing Jews in Jesus as Messiah. Christian Jews in Jerusalem and the Galatians' church later added back certain aspects of their Judaic traditions, especially circumcision, as a "requirement" to be a member of the household of God and to hold to "the faith of their fathers" beginning with Moses and the Law.
As a sidebar...
Notice they disregarded the greater importance of the pure faith of Abraham that solely was focused on the LORD God, the Almighty (long before Moses with the official giving of the Law to the new nation of Israel). The later Mosaic covenant with the nation came long after the unconditional and unilateral earlier covenant with Abraham. And the later conditional Mosaic covenant was a "politically based contract" for God's Theocracy to govern the "family of Jacob" which had grown to immense size and scope.
Jacob, the "deceiver" after trusting The LORD Jehovah, having "wrestled" with his own personal faith in Him, was renamed Israel, "prince of God". The Hebrew people that were formed in Egypt after their family sojourn had sizable growth. This in time led to bondage in Egypt under an oppressive Pharaoh. The LORD supernaturally delivered the Hebrew people. They then officially became a nation named after Israel (formerly Jacob) destined to live in their own land. Before that name, they were simply known as "Hebrews" descended from Abraham and probably associated with Hebron...an important city in the biblical story...(another detailed story for another article).
Abraham, as an uncircumcised Chaldean, living in Babylonia, (what is now southern Iraq, a wealthy port city at the Euphrates river where it enters the Persian gulf) left behind his former life and culture; believed on the Most High and Almighty God in the face of a pagan nation. As a friend of God , he followed the LORD's leading; to a new land of promise and received great and precious promises affecting all of the world. He did not even know God's personal name yet...but He had faith!
The painful symbolic ritual of circumcision was given later as a sign of his separation from his former life and the world system. This command of God to remove the foreskin of the males would be a shadow of the circumcision of the heart performed by the Holy Spirit in response to faith in the Lord Jesus Christ...by grace through faith! And NOT of works!
At salvation , you are eternally severed away from your old flesh inherited from Adam's fallen nature, to be given eternal life and a brand new "holy habitation" like unto Jesus' resurrected body; a body fit for both the earthly millennial kingdom and for the new heaven, new earth and new Jerusalem. All of these "domains" will be created for God's brand new eternal order coming after "the Great White throne" judgment of all of the unredeemed.
It is noteworthy to realize Abraham did not know the personal name of the "Almighty" and "Most High" even though he was cryptically given the sacred personal name indirectly; it being hidden and embedded in the name given by God for the place on Mt. Moriah of the intended sacrifice of Isaac. This place was called "Jehovahjireh" which contains the LORD's personal Old Testament name; and indicating the name of the coming Messiah - Jeshua-Jesus who would be sacrificed...and in the same geographical location of Mt. Moriah which extends through Jerusalem (many hold that this would become the very place of the temple and the "most holy place" in the temple!).
The meaning of this name "Jehovahjireh" is given right in the text..."in the mount of the LORD it shall be seen". The inference is clear. The ultimate sacrifice of the "Lamb of God"; Jesus (Jehovah in sinless human flesh!) would be seen by the entire world of lost sinners through the message of the "glorious Gospel" given in the New Testament. And it was given to Abraham in the Old Testament according to the record in Romans 4.
This "works mixed with faith" teaching for salvation is heresy.
Salvation is completely a result of God's love, mercy and GRACE effected by ACTIONS of GOD ALONE! It is DONE for us and offered as a GIFT we MUST receive!...or sadly, reject in unbelief having pride in our own works.
Lastly, remember...those of us who are real Christians are NOT appointed unto wrath but unto SALVATION!
Real Christians are truly born again, once and forever...eternally saved...reconciled, redeemed, made holy, sealed securely... and remain safely held in the strong arms of the LORD where nothing can separate us from Him.
We are bought with the most precious price; the blood of "the Lamb of God"; that lamb being the living and true WORD of God, the Creator of all things and the only wise God and Saviour; the only begotten Son of the Father in Heaven, the LORD Jesus Christ.
Ask Yourself, are my works to my praise and boasting and benefit to make it to heaven? Or are my works an outgrowth of God working in me and through me as a result of His work for me through the blood of His cross?
True love for God wants no praise, honor or boasting for one's self, but that ALL of the glory, praise and honour belongs solely to the LORD. Flesh-works or Grace-works. One kills and the other saves and glorifies God.
Colossians 1: 20
"And, having made peace through the blood of his cross, by him to
reconcile all things unto himself; by him, I say, whether they be things in
earth, or things in heaven."
Now let's examine some of the fine work of Doc Marquis concerning the Rapture controversy. Doc is a serious student and researcher of the word of God. And he is a first rate "Information warrior" for the Gospel of the Lord Jesus Christ. He was born into an Illumiinati bloodline family but was rescued by the salvation of the Lord and LATER led into ministry AFTER YEARS OF PROPER DISCIPLESHIP in the words of the LORD from the pure and Holy Bible – the trustworthy and proven King James Text.
The Rapture by Doc Marquis Part 1
The Rapture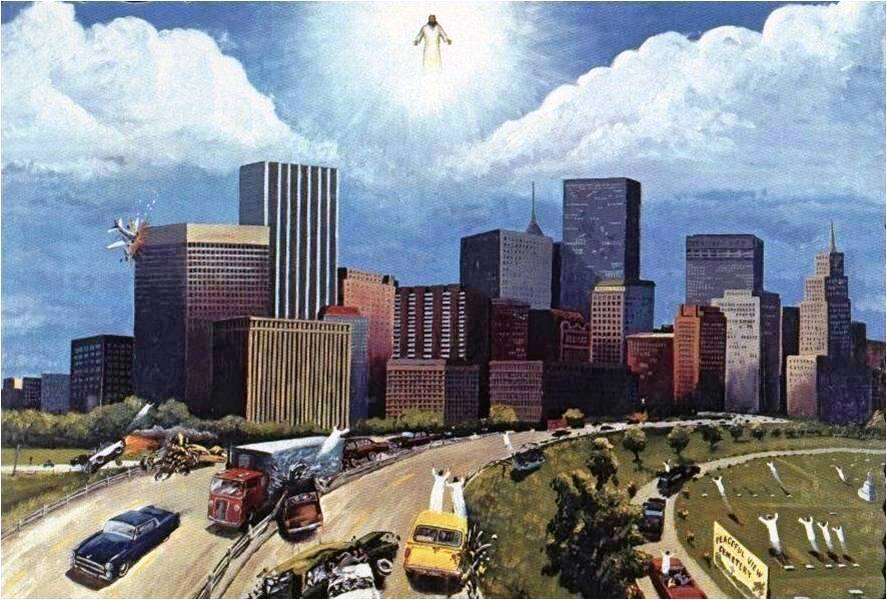 The "Rapture" is one of the simplest concepts found in the Holy Bible. So mote a point was it that the Apostles, who walked with our Risen Lord and Savior, Jesus Christ, didn't even bother to make it a doctrine. Nor should it be! It's only when we add our own opinions and perspectives into it, does the Rapture become a confusing issue.
Before we begin looking at the scriptures which will prove the Pre-Tribulation Rapture of the Church, 2 points need to be explained:
1) Has God ever "punished the righteous with the unrighteous?" The answer is a very simple…no! Tear through the scriptures if you will and try to find just one righteous person who was punished along with the unrighteous. You will be wasting your time because no such event has ever occurred. And when we apply a little bit of common sense, then it wouldn't make sense for such an event to occur. Who would want to worship a God who would unjustifiably punish a righteous person with unrighteous people who have earned such punishments?!
2) The next point I will make is through a question: "What is an appointment?" By definition, an appointment is a time and a place someone is supposed to be for something to happen. One very quick and easy example: you have an appointment made with your doctor which means that "appointment" commits you to be "at a time and a place" to see him. Simple enough!
In I Thessalonians 5:9 it reads: "For God hath not appointed us to wrath…" In other words, we are not designated to have "a time or a place" where we will have to face the wrath of God. There will be those times where God will punish us for something we've done but, facing the whole of the wrath of God is something else.
Why aren't we appointed to face the wrath of God? What makes us (Born-Again Christians) so special that we avoid such an event? The answer is found in John 3:36. It reads: "He that believeth on the Son hath everlasting life: and he that believeth not the Son shall not see life; but the wrath of God abideth on him."
Because we are saved we do not face the "wrath of God" nor have "an appointment to face His wrath." Those who are not saved not only have "the wrath of God" abiding on them, but many will also "drink of the wine of the wrath of God" (Revelation 14:10).
We also find out "…the wrath of God…" is going to be poured out "…upon the earth..." (Revelation 16:1–17). Since the Bible already clearly pointed out that "God hath not appointed us unto wrath" then we cannot be present during the Tribulation Period since His wrath is going to be poured out upon the whole of the earth. It's that straightforward; it's that clear cut:
1) We do not have an appointment to face the wrath of God.
2) Which means we cannot be here during the Tribulation Period,
3) Because the wrath of God is going to be poured out upon the whole of the earth.
Only when we begin to put in "our opinions" or "our perspective" does the Rapture, which is so straightforward, become unclear. Quite frankly, "If God wanted our opinion He would've asked for it!"
The Definition of the word Rapture from the Greek
The word Rapture is derived from the Greek word harpazo. This word, harpazo, has many meanings to it but each of them has a similar definition. This word is used 17 times and in 13 verses in the Greek New Testament, and you're about to see that they're used in a number of different ways, yet, they each hold to a very similar definition:
1) In Matthew 13:19 and John 10:12 the word "catcheth" is the Greek word "harpazo" which, in those two cases means "carry off".
2) In Matthew 11:12 where the words read "take" and "by force" the Greek word "harpazo" is literally (verbatim) translated to mean "take" (for the word "take") and "by force" (for the words "by force"). This occurs once again, with the same words "take" and "by force" in John 6:15 and the Greek word "harpazo" is once again applied for both words ("take" and "by force").
3) In Acts 23:10, where is reads "take him" and "by force", the Greek word "harpazo" is first defined as "to take" and then next defined as "forcibly".
3) In John 10:28 and John10:29 the word "pluck" is the Greek word "harpazo" which means, in those two verses, "to take".
4) In Jude 23 the word "pulling" is the Greek word "harpazo" which is translated to mean "to lead away".
5) In Acts 8:39 the words "caught away" is the Greek word "harpazo" which means"carry(ied) caught away".
6) In I Thessalonians 4:17 and Revelation 12:5 when the words "caught up" are being used, they're the Greek word "harpazo" which means "caught up". That was an easy one to translate.
7) In II Corinthians 12:2 and II Corinthians 12:4 where it reads "caught up"; they too are the Greek word
"harpazo" which means "caught up".
8) In John 10:12 where the word "catcheth" is used, it's the Greek word "harpazo" which means "catch".
I'm sure by now you can easily see that the Greek word "harpazo" has several different words used to translate it into English, however the definition revolves around the same meaning:"something or someone that is being physically removed or relocated". This is the essence of the word "harpazo" and is applicable to all 17 examples in those 13 verses. And we shall be using the words "physically removed" as our general definition for the word Rapture. If we were to try and use all the various different words for Rapture, such as: catch up, take by force, catch away, pluck, catch, pull, to seize, carry off by force, to seize on, to snatch out, to snatch away, etc. we'd all be crazy by the time we were finished with this study. Suffice it to say, we shall use the general term to "physically remove" for this study.
Before moving on any further, allow me to explain something to you. In our normal, everyday conversation, we never use the word "harpazo" unless we're having a Greek conversation. Instead, we will use the word "Rapture". Now, the word "Rapture" is the Latin word for the Greek word "harpazo" and it carries with it the same meaning. This is simply a transliteration, which means translating the spelling of a word into another language. In other words:
1) "harpazo" is a Greek word (which when we transliterate it into Latin becomes the word "rapio")
2) "rapio" is a Latin word (which when we transliterate it into English becomes the word"rapture")
3) "rapture" is an English word (All 3 words, "harpazo", "rapio", and "rapture" have the same meaning). They just have a different origin in a different language. And that's it! The meaning remains unchanged.
There are those people who will say (and I've heard this one plenty of times over decades) that the word "Rapture" doesn't appear in the Bible. First of all, the word "Bible" doesn't appear in the Bible. Yet, I still know I'm reading a "Bible". So that excuse is foolish and juvenile at best.
The word "Rapio", which is where we derive the English word "Rapture" from, is found in the Bible; the Latin Vulgate translation of the Bible to be precise.
Another group of people out there have told me that the word "Rapture" is a word that has only been recently used and applied in any Biblical sense; such as the Church is going to be raptured before the Tribulation Period, or in any Biblical meaning of the word. And this is one of those times when my Christian feathers really begin to get ruffled because those people have either: not studied the literary applications of the word Rapture, or they're just lying to you, knowingly or unknowingly. In either case, they would be lying to you. And they have quite a number of reasons to lie to you, and none of them are good reasons.
If you want to immediately get into the heart of this study, please scroll down to where it reads "What Constitutes a Rapture". For everyone else, I'm going to reveal to you how those people who say the Rapture is a new concept are either lying to you or, have never studied the word Rapture before.
The reason so many people are saying that the word Rapture is only a recent term for certain Biblical events, is mainly due to an event that happened back in 1830.
Back in 1830 a 15 year old girl of Irish/Scottish decent named Margaret McDonald, had a vision of a "Post-Tribulation" Rapture. Notice carefully, her vision was a "Post-Tribulation" vision and not a "Pre-Tribulation" Rapture. She said:
1) "This is the fiery trial which is to try us – It will be for the purging and purifying of the real members of the body of Jesus."
2) "The trial of the Church is from Antichrist. It is by being filled with the Spirit that we shall be kept."
Notice carefully how Margaret stated that this fiery trial (the Tribulation Period) is meant to try the real members of the body of Jesus. And, note especially, Margaret tells us this trying comes from the Antichrist. Well, no matter which perspective you come from, this so-called trying of the members of the body of Jesus, could only happen during, or shortly after the Tribulation Period and "not" before it. In other words, Margaret McDonald's so-called vision was "not" a "Pre-Trib ulation Rapture" vision. Yet, so many people, False Apostles and False Teachers don't tell you that. All they'll usually tell you is that the Rapture of the Church teachings began with Margaret McDonald. They purposely leave out the part that hers' was a Post-Tribulation perspective as she claims it to have been and "not" a Pre-Tribulation Rapture perspective.
It is from the vision of Margaret McDonald, that John Nelson Darby, in 1861, supposedly used the word "Rapture" to describe what Margaret had seen once he had heard of her so-called vision. This would mean that the word Rapture (as a Biblical application) originated back in 1861 and no sooner. That is utter and complete nonsense, and I am going to prove it! I am going to start in the 20th century and work myself all the way back to the 4th century and show all of you good folks, who are reading this article, that the Biblical applications for the word Rapture is much older than 1861.
Historical usages of the word "Rapture"
The following is only a partial list of literary works that contain a Biblical application of the word Rapture. I used some examples after 1861 to show that the true understanding and application of the word Rapture was not changed, but still cherished and being held onto despite how desperately hard Satan has tried to destroy it.
1) 1909 – Scofield Reference Bible
2) 1878 – "Jesus is Coming" – William Eugene Blackstone
3) 1866 – "Hereward the Wake" – Charles Kinglsey (He was "rapt" up on high and saw Saint Peter).
4) 1748 – "New Testament Commentary" – John Gill
5) 1738 – "New Testament Commentary" – Philip Doddridge
6) 1667 – "Paradise Lost" – John Milton ("rapt" in a Chariot drawn by fiery Steeds).
7) 1610 – "Display of Heraldry" – John Guillim (To this place…were Enoch, Elias and Paul "rapt" up fore their deaths).
8) 1526 – "Pilgrim of Perfection" – William Bond (When he was "rapt" & taken up in to the thryde heuen) Note* - from the Middle English, thryde heuen is rendered to be…"third heaven"
9) 1432 – 1450 – "Polychronicon" – Ranulf Higden (Helyas was "rapte" in this tyme).
10) 1412 – 1420 – "Chronicle of Troy" – John Lydgate (in this wyse were the brethren twayne To heauen "rapt", as these poetes fayne). Note* - from the Middle English this sentence would read as: "in this wise were the two brothers to Heaven raptured," into our Modern Day English.
11) 1400 – "Vernon Manuscript" – "By visions of seynt poul when he was "rapt" into paradys) Note * - from the Middle English it would read into our Modern Day American English as: "By visions of Saint Paul when he was 'rapt' (raptured) into Paradise."
12) 325 – Latin Vulgate – "rapio" (I Thessalonians 4:17)
The reason there are a number of various ways to spell "rapture" over the centuries of English speaking nations is based on linguistic evolution. In other words, as languages change, so do the spelling of certain words. In the case of the word "rapture":
1) The Ancient Latin is "rapio/rapere" and other such usages
2) In the Early English Period (1066 – 1154) "rapture" was spelled "rapt"
3) In the Middle English Period (1154 – 1485) "rapt" would be spelled as "rapte"
4) And, nowadays, we would spell the word as "rapture"
There is nothing more to it than that! It is simply a matter of linguistic evolution or change.



The Historical Concept of "Pre-Tribulation Rapture"
The blatant lie (knowingly or unknowingly) that the "Pre-Tribulation Rapture" of the Church is a new concept that can only be traced back to 1830 is simply that…a lie!
I shall now present to you good people another literary list and, this one will prove, once and for all, that the "Pre-Tribulation Rapture" of the Church is not a new concept, but was a teaching that came directly from the Apostles themselves. This list will begin "before" 1830" and turn all the way back to the 1st Century A.D.
1) 1792 – Thomas Scott – he taught that the righteous will be carried to Heaven where they will be secure until the time of the judgment is over.
2) 1763 – James Macknight – he also taught that the righteous will be carried to heaven until the judgment is over with.
3) 1748 – John Gill (Commentary on the New Testament) – teaches of the imminent return of Christ, firstly in Rapture, and then He will return again to judge the earth (Armageddon).
4) 1744 – Morgan Edwards (founder of the Ivy League School, Brown University) wrote of his "Pre-Tribulation Rapture" beliefs.
5) 1738 – Phillip Doddrige (Commentary on the New Testament) teaches along the same lines of John Gill; a "Pre-Tribulation Rapture" perspective.
6) 1687 – Peter Jurieu – ("Approaching Deliverance of the Church") Christ would return during the Rapture and take His saints to Heaven and later return at the Battle of Armageddon.
7) 1674 – 1748 – Isaac Watts (known as the Father of the English Hymn) wrote of his "Pre-Tribulation Rapture" belief. (As a side note, Isaac Watts was solely responsible for writing over 1,000 Christian hymns if I recall the numbers correctly. Study his life because it was truly a miraculous one by all definitions of the word).
8) 1674 – Thomas Collier – makes reference in the belief to the "Pre-Tribulation Rapture".
9) 1532 – 1591 – Francisco Rivera wrote of his "Pre-Tribulation Rapture" of the Church beliefs
10) 431 – 1500 – Any mention of Pre-Tribulation (Millennial) Rapture of the Church perspectives are outlawed by the Catholic Church and deemed heretical and punishable by death!!!
11) 431 – The Council of Ephesus; the Catholic Church decrees and condemns Pre-Millennial views as heresy. Books and such are destroyed or altered.
The following all wrote of the "Pre-Tribulation Rapture" of the Church:
12) 354 – 430 – Augustine, Bishop of North Africa
13) 306 – 373 – Ephraem of Nisibus
14) ? - 204 – Victorinus, Bishop of Petau
15) 200 – 258 - Cyrian
16) 170 – 236 – Hippolytus of Rome
17) 150 – 272 – Apocalypse of Elijah (an Extra-Biblical book)
18) 120 – 202 – Ireaneus ("Against Heresies")
19) 36 – 108 – Ignatius of Antioch, the Third Bishop and Patriarch of Antioch (who as a student of John the Apostle) – His "Letters of Extra-Biblical works are:
a. Letter to the Ephesians
b. Letter to the Magnesians
c. Letter to the Trallians
d. Letter to the Romans
e. Letter to the Philadelphians
f. Letter to the Smyrnaeans
g. Letter to Polycarp, Bishop of Smyrna
20. ? – 99 A.D. – Clement of Rome, "Letter to the Corinthians" also known as "I Clement" (an Extra-Biblical book).
And let me say for the record: "I personally challenge those of the Mid-Tribulation perspective or Post-Tribulation perspective to come up with a literary list, such as I had just presented, that will demonstrate their belief." This is my personal challenge!
Even though the Catholic Church tried to destroy and suppress any writings or teachings on the "Pre-Tribulation Rapture" of the Church, which is easily dated all the way back to the Apostles themselves, they had failed. The "Pre-Tribulation Rapture" of the Church, which is the "oldest" of all the Biblical perspectives, could not be stopped. It originates with the Apostles of Jesus Christ during the first century, taught to their students, and continues on to this very day. The Mid-Tribulation and Post-Tribulation teachings (which are grossly false ones) are the new teachings and not the original teaching of Jesus Christ, nor of His chosen Apostles or their students. Those are teachings and creations of man and not of God.
Now, let's move on to those events which we understand to be "Raptures".



The Rapture by Doc Marquis Part 2

What Constitutes a Rapture?
I really like the way my Pastor, Mike Hoggard, preaches and teaches. He will show you patterns in numbers, words, and in Biblical verses throughout the Bible. And that's what we're going to do next. We're going to try to see if there is a Biblical pattern for the "Pre-Tribulation Rapture" perspective. But before we do, let me ask you this: "What makes a Rapture, a Rapture?" That's a silly question some people might say. But think about it for a moment. When I have asked this question to my brothers and sisters in the past, 99% of them tell me, "It's when Christ is coming back in the clouds to take us away." And they answer the question like that because they did not consider what I was asking. I will ask "What is "a" Rapture, not what is "the next Rapture". You see my dear brothers and sisters, there have been many Raptures in the past as you will shortly find out.
What constitutes a Rapture? Only 3 simple things:
1) God physically removes
2) Those whom He declares to be righteous
3) Outside of His impending judgment
These are the three hallmarks that can be found within an event that we can label as a Rapture. There is only one exception to this rule that I know of, but we'll get to that one later on. For now, remember that: 1) God physically removes, 2) Those whom He declares to be righteous, 3) Outside of His impending judgment."
Before anyone starts to jump out of their shell, hear this matter all the way through and look at the Biblical pattern for the Pre-Tribulation Rapture of the Church. Remember, Scriptures says: "He that answereth a matter before he heareth it, it is folly and shame unto him." Now, let's look for that Biblical pattern on the Pre-Tribulation Rapture.
Noah and the Ark
In Genesis 6 we find out that man's wickedness was great and that every thought of theirs was evil (Genesis 6:5). And because of this God was going to destroy His own creation (Genesis 6:7). However, God instructs Noah to build an ark (Genesis 6:14 – 16) where his (Noah) family will be kept safe from the impending flood.
The big question at this point is, "Is this a Rapture?" It most certainly is. Let's apply the 3 principles of "what constitutes a Rapture" and see how they fit in.
1) "God physically removed" (Noah and his family into the ark)
2) "Those whom He declares to be righteous" (Genesis 7:1 tells us that Noah and his house were righteous before God)
3) "Outside of His impending judgment" (Genesis 7:23 shows us the end result of God judgment upon His creation)
Beyond any shadow of a doubt, the events surrounding Noah and the Flood constitute a Pre-Tribulation Rapture. Noah and his family were removed "before" God's judgment hit the earth. Are there any other examples of such Raptures? Of course there are. Let's move on.
Lot and the Cities of Sodom and Gomorrah
In Genesis 18 we read that 3 men (or angels, one of whom it is believed was Jesus Christ) pay Abraham a visit. After it has been revealed that Sarah will bear a son (even though she is well beyond the ability to conceive a child) the 3 men rise up and begin to walk towards Sodom (Genesis 18:17). Once it had been revealed that the 3 men intend to destroy Sodom and Gomorrah for their unbounded sins (Genesis 18:20) Abraham tries to intervene.
In Genesis 18:23 – 24 Abraham asks a very revealing question that is extremely pertinent to this study. To me, it reads as if Abraham was absolutely horrified about what could happen. He asked, "Wilt thou also destroy the righteous with the wicked?" This was a concept that seemed almost outside of Abraham's ability to comprehend. As it should've been! Remember, God doesn't punish the righteous with the unrighteous (wicked). This is why Abraham was so afraid of what might have happened. Genesis 18:25 tells us that, according to Abraham's understanding, God just doesn't work like that. Abraham says, "That be far from thee to do after this manner, to slay the righteous with the wicked: and that the righteous should be as the wicked…" In other words, "you don't judge people like that. The righteous are different from the wicked and do not deserve to be punished."
To further his cause, Abraham from Genesis 18: 24 – 32 is petitioning the Lord not to destroy Sodom if there are righteous people found in it. Abraham asks:
1a) Genesis 18:24 – if there are 50 righteous people, will you destroy Sodom?
1b) Genesis 18:26 – the Lord says if there are 50 righteous people I won't touch the place.
2a) Genesis 18:28 – if there are 45 righteous people, will you destroy Sodom?
2b) Genesis 18:28 – the Lord says if there are 45 righteous people I won't touch the place.
3a) Genesis 18:30 – if there are 30 righteous people, will you destroy Sodom?
3b) Genesis 18:30 – the Lord says if there are 30 righteous people I won't touch the place.
4a) Genesis 18:31 – if there are 20 righteous people, will you destroy Sodom?
4b) Genesis 18:31 – the Lord says if there are 20 righteous people I won't touch the place.
5a) Genesis 18:32 – if there are 10 righteous people, will you destroy Sodom?
5b) Genesis 18:32 – the Lord says if there are 10 righteous people I won't touch the place.
Now this exchange could've gone all the way down to 1 and still the Lord wouldn't have touched the place, and such is the case as you will shortly see.
In Genesis 19 two of the angels visit Lot and tell him what they're about to do. In Genesis 19:12 the angels instruct Lot to find his son in laws, his son, his daughters and such and tell them all what is about to happen. It is evening time at this point and Lot only has until the morning to warn his relatives and to get them out of there. Unfortunately, no one listened. In Genesis 19:15, when the morning comes, the angels are, basically, telling Lot to "Move It" because judgment is about to hit Sodom.
In Genesis 19:16 Lot is lingering and, knowing that God's wrath is about to be unleashed, the angels grab Lot and his family by the hand and almost drags them out of the place. They are instructed to flee to the mountains and not to look back upon Sodom as it is being destroyed. We find out in Genesis 19:24 – 25 that Sodom, Gomorrah, all the inhabitants and the entire area (plains) are completely wiped out!
In Genesis 19:19 Abraham tells the angels that he doesn't want to escape to the mountains because he's afraid something will happen to them along the way. He suggests that, instead of sending him to the mountains to send them all to the small City of Zoar (Genesis 19:22). The response from the angels reveals a lot of information to us if we read it carefully. In Genesis 19:21 (to paraphrase it) the angels state that they will allow Lot and his family to go to Zoar and (even though it was going to be overthrown) that it would not be overthrown now because Lot will be living inside of it.
So, why wasn't Sodom overthrown before? And, why was Zoar no longer going to be overthrown? Simple; because Lot lived in Sodom and was moving to Zoar. Lot's presence is what prevented both cities from being touched.
1) Lot lived in Sodom which prevented it from being destroyed.
2) Once Lot was told to relocate to another city then Sodom could be destroyed.
3) The City of Zoar was no longer going to be overthrown. Why?
4) Lot was going to move into Zoar.
What's the connection? What was so special about Lot that, wherever he lived, the places remained untouched by God's just judgment? "Lot was righteous!" In
2 Peter 2:7 – 8 it tells us that Lot was a "righteous man". And, let's not forget that the angels revealed to Abraham that Sodom would not be touched if righteous people were found in it. Once Lot, who was righteous, had been removed then Sodom could face the judgment of God.
Do those events which happened in Sodom constitute another Rapture? Again, yes!
1) God physically removed (Lot and his family)
2) Those whom He declares to be righteous (II Peter 2:8 – 9 tells us Lot was righteous)
3) Outside of His impending judgment (Genesis 19:24 – 25 tells us the end result of God's judgment upon the entire area of Sodom and Gomorrah).
Once again, we have another Rapture! All the elements, which constitute a Rapture, are found in those events surrounding the destruction of Sodom and Gomorrah. But, let's move on.
Moses and the 10 Plagues of Egypt
When going through the events leading to the destruction of Sodom and Gomorrah it had been revealed to us, through the angelic messengers, that because righteousness (Lot) was found in the City of Sodom, that God could not judge the place until that righteousness (Lot) had been removed. Only after "righteous" Lot had been "Raptured" out of Sodom could God then punish it. Plus, the City of Zoar, which appeared to have been on the list of those cities to be destroyed, was spared its destruction because "righteous" Lot was going to move into that place. The angelic messengers had given us such a critical piece of information pertaining to "What Constitutes a Rapture." In short: "those whom are righteous must first be removed before God will punish a place with His judgment."
In the story surrounding the events of Moses' confrontation with Pharaoh, we are going to see another snippet of information that will further our understanding into what makes a Rapture, a Rapture.
After Moses had met God as a burning bush (Exodus 3:3 – 5), he is given orders to free the Israelites who had been kept as prisoners in an occult, polytheistic society for 430 years (Exodus 12:41). The rod which Moses had been carrying (Exodus 4:4) is blessed with Divine powers and, once he meets up with his brother Aaron, they go to deliver God's message to Pharaoh.
In Exodus 7:7 we learn that Moses is 80 and Aaron is 83 when they begin to confront Pharaoh. Once they had finished confronting Pharaoh with the first 3 plagues (the rod turning in a serpent, Exodus 7:10, the waters being turned into blood, Exodus 7:20 and the frogs being called out of the waters, Exodus 8:6) something very vital is revealed that is extremely important to our study of the Pre-Tribulation Rapture.
In Exodus 8:20 – 23 Moses is instructed by God to tell Pharaoh to let His people go or he will send a swarm of flies throughout all of Egypt. Now, it's in verse 22 that we find out something very, very important. God tells us that He "…will sever in that day the land of Goshen, no swarms of flies shall be there…"
God had just "separated" the land of Goshen from the rest of Egypt. And, in order to really get the full impact of what was going on, please take a look at Figure 1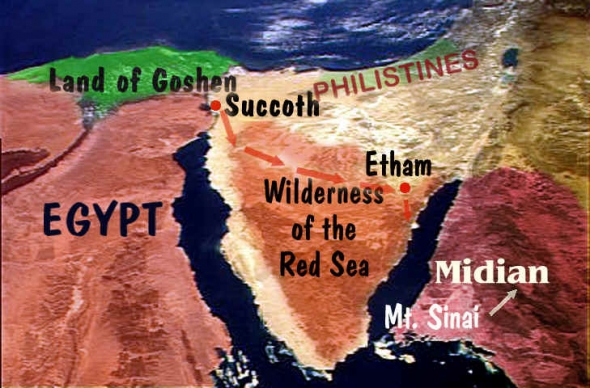 . Notice how the Land of Goshen is in the uppermost, Northern section of Egypt. This was the land that had been given to the House of Joseph by Pharaoh (Genesis 47:6), and it was the best of all the land of Egypt. But, in Exodus 1:8 – 14, we find out that the new king turned all of the Israelis into slaves and kept them as such in Goshen. And, it is commonly believed that it was Pharaoh Ramses II that was ruling over Egypt at the time the 10 plagues were wiping out that area.
To further emphasize His point, God tells us in Exodus 8:23 that He "…will put a division between my people and thy people…" God had made it abundantly clear that, not only had He separated His people (the Israelites) from the Egyptians, but also the land they lived in (the Land of Goshen). In other words, "God had physically removed" the Israelites to the Land of Goshen. And, it's this separation or, "physical removal" that constitutes the first part of "What Constitutes a Rapture."
The second part of what makes a Rapture a Rapture, is that there has to be a declaration of righteousness. Had God ever declared those Israelis that were held captive in Egypt righteous? Yes! In Romans 4:11 we find out that all of those Israelis had the "seal of righteousness" upon them through Abraham. It was through Abraham that circumcision began and went throughout all of Israel. And, in verse 11 you'll find out that this "righteousness" was something that was imputed, or given to them. Circumcision was a "physical (outward) sign" of their "faith in God". When you read through Romans 4:11 – 13 carefully, you'll soon discover that the "seal of righteousness" given to the Israelis, was both a "physical and a spiritual sign." So because the Israelis had "righteousness" upon them, they met the second criteria of "What makes a Rapture a Rapture."
The third part of "What Constitutes a Rapture", where people are "outside of God's judgment" (or removed), begins in Exodus 8:22. God Himself states that "…swarms of flies shall be not there (Goshen)…" In Exodus 9:3 – 6 the cattle, the horses, the asses, the camels, the oxen and the sheep of Egypt are stricken with a murrain (possibly a form of what we nowadays call anthrax). Yet, in verse 6 we find out that this murrain did not touch the cattle of the Israelites. This is the physical proof that God did not physically touch even the cattle of the Israelites. Why? Because during a Rapture there is a division; a separation as had already been revealed in Exodus 8:22 & 23.
During the 10 Plagues of Egypt another Rapture had occurred:
1) God physically removes (the Israelis into the Land of Goshen)
2) Those whom He declares to be righteous (the Israelis had the "seal of righteousness" upon them)
3) Outside of His impending judgment (the 10 Plagues of Egypt)
Once again, all the elements for a Pre-Tribulation Rapture are in place. And this time, God even told us in His own words part of what constitutes a Rapture; there is a division or, a separation of those people who are declared righteous from the unrighteous (or wicked).
We will be looking at other Raptures later on in this article but, for now, let's move onto "the next Rapture" that is going to occur in our time frame.
The Next Rapture
The next Rapture that will happen is found in I Thessalonians 4:16 – 18. It reads as follows:
"For the Lord himself shall descend from heaven with a shout, with the voice of the archangel, and with the trump of God: and the dead in Christ shall rise first:
Then we which are alive and remain shall be caught up together with them in the clouds, to meet the Lord in the air: and so shall we ever be with the Lord.
Wherefore comfort one another with these words."
To further emphasize the eventuality of this next Rapture, the Bible tells us in
I Corinthians 15:51 – 53:
"Behold, I shew you a mystery; We shall not all sleep, but we shall all be changed,
In a moment, in the twinkling of an eye, at the last trump: for the trumpet shall sound, and the dead shall be raised incorruptible, and we shall be changed.
For this corruptible must put on incorruption, and this mortal must put on immortality."
There are other verses in the Bible that will add to the understanding of this next Rapture but, what we need to look at now is: "Does this next Rapture fit in with the scriptural pattern that constitutes a Rapture?" And, like all the other ones, it does. And trust me Brothers and Sisters, I could write a book on this topic alone but, that would deprive you of the pleasure of doing the rest of the homework yourself.
Before we continue there are two things I'd like to quickly cover. First, there are those who refer to this next Rapture as the "Secret Rapture". Mind you, they use this term in a condescending manner because of their views and opinions. Such terminology is ridiculous and ludicrous because we know it's going to happen, therefore it cannot be a "secret." And, when it does happen, it's not as if anyone is going to miss it!
The second thing I want to quickly cover is that this next Rapture is not "The Second Coming of Christ"!!! The reason this is not the Second Coming of Christ is because He does not physically touch the earth. The First Coming of Christ was when He physically walked upon the Earth during the 33 years of His life among us during the 1st Century A.D. The "true""Second Coming of Christ" is when He physically arrives on the Earth again, towards the end of the Battle of Armageddon and sets down upon the Mount of Olives where it will be split in two. During this next Rapture the Lord meets us all in the air and not physically upon the Earth. Once again, there's nothing more to it than that. Let's move on!
Does this next Rapture contain the 3 elements necessary to constitute another Rapture that is based on the Biblical pattern that has been established up to this point? It certainly does.
1) God physically removes (I Thessalonians 4:17 proves that we shall be "…caught up" (the Greek word harpazo) together with them in the clouds…" A physical removal
2) Those whom He declares to be righteous (Romans Chapters 5 & 8 thoroughly explains how Christ imbued us with "righteousness" when we became saved. Though whole books have been written on this topic alone and, humbly I will say that, I do not intend to write such a book for this article).
3) Outside of His impending judgment (I Thessalonians 5: 9 already pointed out that we do not have an appointment to face the wrath of God):
a. Revelation 6:16 – 17 - people are fleeing and trying to hide from "the wrath of God".
b. Revelation 11:18 – All the nations of the world become angry because "the wrath of God"has arrived and the unsaved must now be judged according to their sins.
c. Revelation 14:10 – Those who have taken the Mark of the Beast shall drink of the wine of"the wrath of God".
d. Revelation 14:19 – 20 – the winepress of "the wrath of God" and be poured out.
e. Revelation 15:1 – Revelation 16:1 – We are told that seven angels are given seven vials that are full of "the wrath of God" that will be poured out upon the whole of the earth.
f. Revelation 16:19 – 20 – the City of Babylon will have "the wrath of God" poured out upon her.
g. Revelation 9:15 – the fierceness the "the wrath of God" shall once again be seen when Christ arrives with His armies for the Battle of Armageddon.
Let's face it! God is furious! However, God be praised, we shall not have to face His wrath because we are saved, and we are not on the earth during the Tribulation of all Tribulation time period. And, one other thing that is especially needed to be noted here is that this next Rapture has been compared to the ones that happened during the Great Flood of Noah (Matthew 24:37 – 42) and the destruction of the Cities of Sodom and Gomorrah (Luke 17:26 – 29). God had thoroughly destroyed His entire creation during the Great Flood because He was so sick and tired of the earth being so sinful (one sinful thought after another), except for the righteous family of Noah, and in the judgment of the sin and wickedness of the cities of Sodom and Gomorrah and the surrounding plains (except for righteous Lot).
What is particularly interesting is God destroyed the earth with water during the Great Flood but, promised He would never judge His creation like that ever again and established the rainbow as proof of His covenant between Himself and His creation. During the destruction of Sodom, Gomorrah and the surrounding plains God destroyed them with fire. And, when we study the Book of Revelation, the world is slowing being destroyed by fire. That's one of the main reasons why the next Rapture and the outpouring of "the wrath of God" are being compared and contrasted with Noah and Lot. God's wrath is being poured out upon the unrighteous (as in the days of Noah and Sodom and Gomorrah), and since He promised not to destroy the world with water, He does it with fire during this next Rapture as He did with Sodom and Gomorrah because fire is a purifying element and the whole of the earth is being purified of all the sins that had been committed upon it.
There it is Ladies and Gentlemen. Once again, during this next Rapture, the elements which constitute a Rapture have all been met.
The timing of this next Rapture is believed to occur at Revelation 4:1. And there are many good reasons for this:
1) Revelation 3:20 – 22 (right before Revelation 4:1) Christ is standing at the door and knocking. This is the Bridegroom (Christ) seeking the Bride (the Saints) and not a verse of salvation as many believe it to be. Immediately after this event the Church vanishes in Revelation 4:1.
2) From Revelation 4:1 – Revelation 19:11 (the entire Tribulation Period) the Church is not seen of again until they (you and I; saved people) come down with Christ for the Battle of Armageddon. We come down at this point because we have already been taken away at the Rapture. Only after the Second Coming of Christ at The Battle of Armageddon is the Church seen again. There will be those who will become saved during the Tribulation Period and beheaded for refusing to follow the Beast and take his Mark (Revelation 20:3), but they became saved after the Christian Church Age has ended in Revelation 3:22 and not before it has ended. So they must go through as much of the Tribulation Period as they can. And by that, I mean to say that "if they can live through it all without being martyred as they're being hunted down by Antichrist and his followers".
3) Since Revelation 4:1 shows us that the Church is no longer heard of again until Revelation 19:11, it fits in perfectly with the Rapture pattern of the Bible, where the righteous have been first removed before the impending judgment of God has occurred. Let's move on.
Enoch and Elijah
We find out in Genesis. 5:21 - 24 that Enoch, when he was 365 years old, had been taken by God, and I believe it was, to heaven.
In verse 24 the word "took" in Hebrew is "laqach" which means to "remove". So, as with all the other examples of a Rapture, Enoch's "removal" was another necessary element. In other words, Enoch was "removed" because it's part of those elements which constitute a Rapture. And, like all the others, Enoch was physically removed. Now, please hold that thought for a minute.
In II Kings 2:1 we find out that "…the Lord would "take" up Elijah into heaven by a whirlwind…" and that in verse 11 he went up in "…a chariot of fire…". The Hebrew word for "take", once again, is "laqach" which means to "remove". So, as with any other Rapture, Elijah was physically "removed".
There is a problem with the examples of Enoch and Elijah. They met 2 of the 3 requirements for a Rapture: they were both physically removed, and the Bible shows they were righteous but, where is the 3rd. element: "outside of God's impending judgment"?
Both Enoch and Elijah were removed and taken up to God (as one could expect in a Rapture) but there's was no impending judgment about to hit. The reason this element wasn't necessary was because Enoch and Elijah are being reserved for another purpose. And I do mean reserved because neither of them had died. There was no death mentioned at all. On the surface this appears to be contrary to Hebrews 9:27 where we all, actually have an appointment this time. It reads "And as it is appointed unto men once to die…" All of us have an appointment (a time and a place) to die; there are no exceptions. So, how does this fit into what happened with Enoch and Elijah?
In Rev. 11:3 – 12 we discover that 2 witnesses will prophesy for 3 ½ years. Anyone who tries to hurt them will be destroyed by fire that comes out of their mouths. They will have power to stop rain from coming, turn water into blood, and to cause plagues to occur. At the end of those 3 ½ years they will be killed by Satan and, after 3 ½ days they will be "raptured" into heaven.
I am convinced "The Two Witnesses" are "Enoch and Elijah" because both witnesses appear out of nowhere, and both witnesses will die and, then, be raptured. Enoch and Elijah never died however, in the Book of Revelation both witnesses will die.
There are those who believe that "The Two Witnesses" will be "Moses and Elijah" because the "The Two Witnesses" will be able to perform miracles:
1) Fire comes out of their mouths
2) They can stop the rain from coming
3) They will be able to turn water into blood and
4) They will be able to cause plagues to occur
It is true that Elijah stopped rain from coming and, he did play with fire (in a way when he faced the Prophets of Baal) but, Moses did not have any powers per se; the Rod (staff) of Aaron did. When Moses confronted Pharaoh and turned the water into blood and caused the plagues in Egypt to occur, it was the rod that had the power of God imbued into it, and it was Aaron who was using the rod most of the time and not Moses:
1) Ex. 7:10 – Staff turned into serpent (Aaron wielded the staff)
2) Ex. 7:19 – Water turned into blood (Aaron wielded the staff)
3) Ex. 8:5 – Frogs called out of the waters (Aaron wielded the staff)
4) Ex. 8: 16 – 17 – Lice was called forth (Aaron wielded the staff)
5) Ex. 8:21 – Flies covered the land of Egypt (Directly done by God)
6) Ex. 9:3 – A murrain (possibly anthrax) strikes the animals (Directly done by God)
7) Ex. 9:8 – 10 – Boils are produced (Aaron and Moses, though Moses had sprinkled the ashes before Pharaoh)
8) Ex. 9:23 – Thunder and then hail mingled with fire (This is the first time Moses uses the rod during the 10 Plagues of Egypt)
9) Ex. 10:13 – Locusts destroys the crops of Egypt (Moses and the Rod)
10) Ex. 11:5 & 29 – The Death of all Firstborn Egyptians (Directly done by God)
When we consider the debate as to if Moses will be one of the Two Witnesses because they (the Two Witnesses) can "turn water into blood" and "cause plagues", Moses simply doesn't add up. It was "Aaron (through the rod) that turned water into blood" and not Moses. Plus, anything resembling a "plague" was done by Aaron (through the Rod) when he called for the lice, and "the flies that covered Egypt was done directly by God".
During the 10 Plagues of Egypt, Moses & Aaron did produce boils, and Moses did call for the"hail mingled with fire" and the "locusts" but he did not produce any plagues as Aaron had done, and then God. So, the debate that Moses will be one of the Two Witnesses because they (the Two Witnesses) will turn water into blood and cause plagues to occur does not add up. It was Aaron who turned the water into blood and caused plagues, not Moses.
Another important point to make is Moses had died a physical death. We find in Jude 23 that the archangel Michael was contending with Satan over the body of Moses. This is verified in Deuteronomy 34:5 – 7 where Moses, at 120 years old, died in the land of Moab. Since everyone (including Moses) "has to die once" (Heb. 9:27) I personally believe this also excludes Moses from being one of the Two Witnesses. Why?
1) Enoch and Elijah never died.
2) Moses did die!
3) The Bible tells us in Heb. 9:27 that everyone "has to die once"
4) The Two Witnesses will die during the Tribulation Period and, like us, will be Raptured into Heaven after 3 ½ days.
So, you can understand why I don't believe Moses will be one of the Two Witnesses because he just doesn't fit the description. And I would end this little section by saying: I respectfully, and I do mean "quite respectfully" chose to disagree with those who believe Moses will be one of the Two Witnesses based on what I had just presented. Whether it's going to be Elijah and Enoch, Moses and Elijah, or perhaps two unknown individuals, no can say for certain. All we can really do at this point is to wait and see.
Philip and the Ethiopian Eunuch
In Acts 8:26 – 40 we find an Ethiopian eunuch was in his chariot reading a passage from the Book of Isaiah (Is. 53:6 to be precise). The Holy Spirit instructs Philip to go speak with this Ethiopian and, in the end, he becomes saved. After Philip baptizes this man he is "caught away (harpazo)" and can later be found preaching in Azotus and throughout all the cities along the way unto Caesarea. Philip was "physically removed", because he was "righteous (he was saved)" but, as was also the case with Enoch and Elijah, there was no "impending judgment"of God's about to hit.
It appears that when an individual (only 1 person) is "raptured" only 2 of the 3 elements are necessary: "physical removal" and "righteousness". However, whenever there is more than"1 person being raptured, all 3 elements must be met": 1) "physical removal", 2) the persons involved must be "righteous" and 3) "God's impending judgment" is about to hit. And in the 20 years that I've been teaching this, I haven't found any exceptions.
The Last Trumpet
In I Corinthians 15:52 a trumpet is going to be blown that heralds in the last Rapture. In I Thessalonians 4:16 again, the same Rapture event is spoken of but, the trumpet (which is also present) isn't being sounded. But this is simply because of literary license.
(My comment – this Trump is the VOICE of God just as it was back at Sinai with the Law and the children of Israel).
When Paul wrote this verse (under the Divine inspiration of the Holy Spirit) he didn't mention it being blown again because he had already written about it back in I Corinthians 15:52. He simply didn't feel it was necessary to repeat himself.
(My comment – this rationalization by Doc is unnecessary because it is the VOICE of God and not to be confused with the seventh Trumpet judgment in the book of the Revelation)
When will this Seventh Trumpet be blown? Some believe it is being sounded in Revelation 11:15 which comes from the Mid-Tribulation perspective. But, there's a problem with that line of thought.
Let me ask a very simple question? What is the purpose of a trumpet being blown? Unless you're musically inclined, there has to be a reason for a trumpet being blown. And, again, it's a very simple answer. A trumpet is blown to announce "the beginning" or "the end" of something; usually an event. This practice goes on to this very day in nations throughout the world. Just think of England for a minute. Whenever the Queen opens up Parliament, trumpets are being blown. When's she's finished, trumpets will once again be blown. During the crowning of a new British monarch, trumpets will be blown to begin the ceremony and, also, to end the ceremony, etc. And let's not forget how the Shofar had been blown in order to signal the beginning or the ending of some event.
You cannot say that the last trumpet will be blown during the Middle of the Tribulation because the Tribulation Period isn't over yet. That kind of reasoning doesn't fit in with "why a trumpet is blown". And, it doesn't fit in with the fact that God has never once punished the righteous with the unrighteous. So, what's the answer then? The answer is found at Rev. 3:20.
In Rev. 3:20 the End of the Christian Church Era is coming to a conclusion. Christ is announcing His arrival as the Bridegroom meeting His Bride (you and I). And, this ending, is met with the "Last Trumpet" found in I Thessalonians 4:16 and I Corinthians 15:52. That "Last Trumpet" which Paul wrote about is the trumpet that is marking "the end" of the Christian Church Era. It's that plain, that straight forward Ladies and Gentlemen. When you understand the purpose behind a trumpet, it's easy to understand why the "Last Trumpet" is being sounded during the next Rapture, because it will mark the end of an age; the Christian Church Age. And, when you add in the fact that God has never punished the righteous with the unrighteous, it all becomes very clear.
(My comment – The TRUMP – the VOICE of God spoke first at Sinai and brought great fear on Israel - the last time the LORD speaks as a TRUMP is at the "Come up hither" command of the resurrection-catching up)
Those of the Mid-Tribulation perspective will use Dan. 7:25 that God won't rescue His saints until the Middle of the 70th Week of Daniel. Again, two problems with that line of thought: 1) God has never allowed the righteous to be punished with the unrighteous and, 2) people will get saved throughout the Tribulation Period and later on martyred (beheaded) because they refuse to worship the Antichrist or take his mark (Rev. 20:4). The Antichrist takes on his full power at the start of the second half of the Tribulation Period or, what is also referred to as "The Great Tribulation Period" and martyr (murder) all those who refuse to worship him. The martyrdom begins during the "second half of the Tribulation Period" and not before. So, there is no Mid-Tribulation Rapture because the Christians are being martyred then.
In Conclusion…
In conclusion, a definitive pattern has been proven to exist in the Scriptures pertaining to the Pre-Tribulation Rapture perspective:
1) Multiple examples have been given which also satisfies the "scientific method" of demonstrating that a fact is only proven through repetition.
2) With the cases of "more than 1 person being involved", "Pre-Tribulation Rapture" was the only method that had ever been used.
3) The 3 elements which constitute a rapture were met in every case where more than 1 person was being involved in a rapture.
4) Never once, in any of those raptures, had God allowed the righteous to be punished with the unrighteous (or wicked).
5) Scriptures declare no one who has been declared to be righteous has an appointment to face the wrath of God and, has never been punished with the unrighteous.
Those who hold to the Mid-Tribulation or Post-Tribulation perspectives cannot show a definitive, scriptural pattern as you were just shown with the Pre-Tribulation Rapture perspective. The Mid-Tribulation and Post-Tribulation folks will throw a bunch of scriptures at you and, so many at times, that you can no longer tell heads from tails and, by doing so they easily confuse the issue. Anyone can do that! But, they cannot show you multiple events that form a pattern that is based on their perspectives. The only pattern, based on multiple, scriptural examples, based on multiple events, using a definitive pattern is the Pre-Tribulation Rapture perspective.
There you have it folks! The Pre-Tribulation Rapture of the Church is the only perspective that lines up with the scriptures and makes perfect, scriptural sense.
As always, take care everyone and God keep each and every single one of you…Doc!
Appendix A
Conventional historic opinions related to "imminency" expressed in Wikipedia (excerpts)
Early 1700's
The Schwarzenau Brethren, or German Baptist Brethren as it is known in America, originated in Germany, the outcome of the Radical Pietist ferment of the late 17th and early 18th centuries. Hopeful of the imminent return of Christ, the founding Brethren abandoned the established Reformed and Lutheran churches, forming a new church in 1708 when their apocalyptic hopes were still unfulfilled. They thereby attempted to translate "the Philadelphianidea of love into concrete congregational ordinances obligatory for all the members."
Radical Pietism the theological doctrine of Pietisminterpreted to the effect that its followers decided to break with denominational Lutheranism, forming separate churches. Such Radical Pietists contrast with Church Pietists, who chose to remain within their denominational settings.
Radical Pietists distinguished between true and false Christianity(usually represented by established churches), which led to their separation from these entities.[1]
Pietism emphasized the need for a "religion of the heart" instead of the head, and was characterized by ethical purity, inward devotion, charity, asceticism, and mysticism. Leadership was empathetic to adherents instead of being strident loyalists to sacramentalism. The Pietistic movement was birthed in Germanythrough spiritual pioneers who wanted a deeper emotional experience rather than a preset adherence to form (no matter how genuine). They stressed a personal experience of salvation and a continuous openness to new spiritual illumination.
Many of the Radical Pietists were influenced by the writings of Jakob Böhme, Gottfried Arnold, and Philipp Jakob Spener, among others. They taught that personal holiness (piety), spiritualmaturity, Biblestudy, prayer, and fastingwere essential towards "feeling the effects" of grace.
Pietism (from the word piety) was an influential movement within Lutheranismthat combined the 17th century Lutheran principles with the Reformedemphasis on individual piety and living a vigorous Christianlife.[1]
Appendix B
This is a rather biased assessment by writers contributing to Wikipedia about Darby.
Mid 1800's
John Nelson Darby (18 November 1800 – 29 April 1882) was an Anglo-IrishBible teacher, one of the influential figures among the original Plymouth Brethrenand the founder of the Exclusive Brethren.
He is considered to be the father of modern Dispensationalismand Futurismin the English vernacular. He produced a translation of the Bible based on the Hebrew and Greek texts called The Holy Scriptures: A New Translation from the Original Languages by J. N. Darby.
Darby has been credited with originating the pre-tribulational rapture theory wherein Christ will suddenly remove His bride, the Church, from this world before the judgments of the tribulation. Some claim that this "the Rapture of the Saints" [date?] was the origin of the idea of the "rapture." Dispensationalist beliefs about the fate of the Jews and the re-establishment of the Kingdom of Israel put dispensationalists at the forefront of Christian Zionism, because "God is able to graft them in again," and they believe that in His grace he will do so according to their understanding of Old Testament prophecy. They believe that, while the ways of God may change, His purposes to bless Israel will never be forgotten, just as He has shown unmerited favour to the Church, He will do so to a remnant of Israel to fulfill all the promises made to the genetic seed of Abraham.
Appendix C
If one accepted Darby's view of the secret rapture... Benjamin Wills Newtonpointed out, then many Gospel passages must be "renounced as not properly ours."...this is precisely what Darby was prepared to do.

Too traditional to admit that biblical authors might have contradicted each other, and too rationalist to admit that the prophetic maze defied penetration, Darby attempted a resolution of his exegetical dilemma by distinguishing between Scripture intended for the Church and Scripture intended for Israel...

The task of the expositor of the Bible was, in a phrase that became the hallmark of dispensationalism, "rightly dividing the word of truth".
From "The Roots of Fundamentalism:
British and American Millenarianism 1800-1930" (1970)
by Ernest R. Sandeen, University of Chicago Press
ISBN 978-0-226-73467-5, p. 65-67